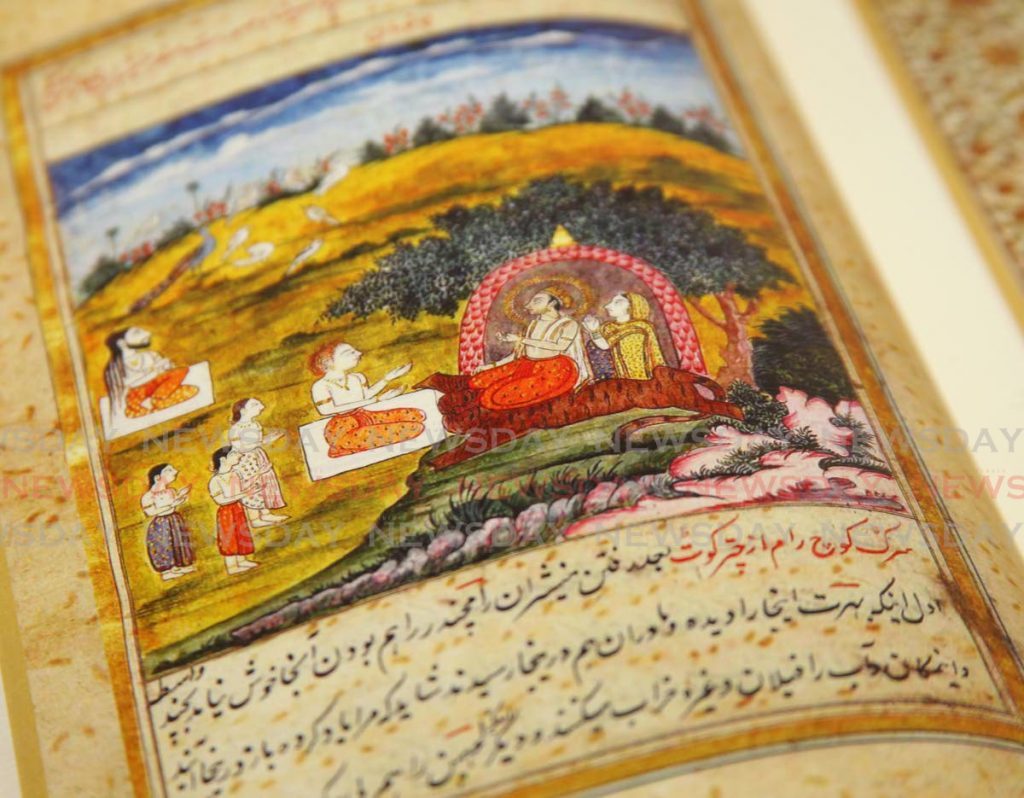 High Commission of India opened the Balmiki Ramayana Exhibition to the public on January 7, 2020 at the Prestigious Art Society of Trinidad and Tobago in St Vincent Street, Port of Spain. The inauguration event was held on Art Society premises in the evening of 7th January 2020. The exhibition will be open till 18th January 2020 (except Sundays & Mondays).
The event was attended by Honourable Minister of Works and Transport Mr. Rohan Sinanan, His Worship Mr. Joel Martinez Mayor of Port-of-Spain, Her Worship Ms. Vandana Mohit Mayor of Chaguanas, Pandita Indrani Ramperad, Mr. Sieunarine Persad-Coosal, CEO of the Coosal's Group, Members of the Art Society of Trinidad and Tobago including Mr. Peter Sheppard – President, Members of the Media and other eminent members of society. The distinguished guests brought greetings on the occasion.
Ramayana, originally written by Valmiki, tells the story of a prince, Rama of the city of Ayodhya and is one of the two major Sanskrit epics of ancient India, the other being the Mahābhārata. The epic has been told and retold in various forms through generations in India and in several countries around the world, including Trinidad and Tobago, where the story of Ramayana remains popular as ever.
High Commissioner of India, H.E Mr. Arun Sahu stated that it gave him immense pleasure to bring one of the treasures of India: an exhibition of Balmiki (Valmiki) Rāmāyan transliterated from Sanskrit to Persian by Sumīr Chand in 1715 C.E during the reign of Farrukhsiyar, a later Mughal. The Rampur Raza Library in Rampur, Uttar Pradesh owns the original manuscript. This manuscript is in the Persian Nasta'liq script written with gold water and like other manuscripts of that period, is beautifully illustrated. The three volumes of this Persian version have also been translated into Hindi and edited by Prof. Shah Abdus Salam and Dr. Waqarul Hasan Siddiqui. Prime Minister Narendra Modi presented a reproduction of this Persian manuscript to the Iranian President Dr. Hassan Rouhani in 2016.
The inauguration ceremony included an instrumental music rendition by Mr. Arshad Khan, Table Instructor at the Mahatma Gandhi Institute for Cultural Co-Operation accompanied by Hanif Goodridge and Obadele Allick on Steelpan, Mr. Everalds Redman Watson on African drum and Mr. Deepak, Tassa-player.
---
Disclaimer: The opinions expressed within this article are the personal opinions of the author. World Hindu News  is not responsible for the accuracy, completeness, suitability, or validity of any information on this article. All information is provided on an as-is basis. The information, facts or opinions appearing in the article do not reflect the views of  World Hindu News and World Hindu News does not assume any responsibility or liability for the same.