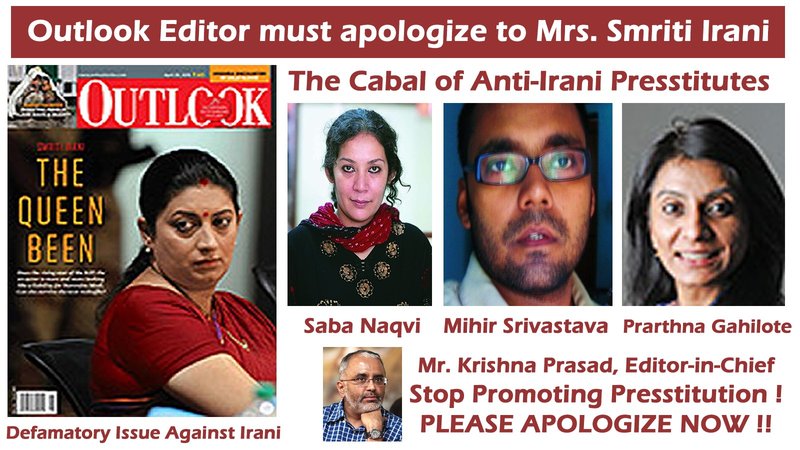 Please sign this petition, and forward to all your friends.

https://www.change.org/p/editor-in-chief-outlook-apologize-to-mrs-smriti-irani-and-print-it-in-your-next-issue

[ *NOTE: This is formal complaint against Outlook to be submitted to Press
Council of India prepared by a legal professional. As per their rules, the Editor must be petitioned first, and there is a wait of 4 months after that. To be effective, the due process must be followed.* ]




​

Dear Editor,

The below complaint is with reference to what seems like an angular approach on Union HRD minister and her performance.

In your April 20, 2015 edition, Outlook ran three articles including a cover story on the current Union HRD minister. While Article 19(1)(a) implicitly guarantees the press freedom of expression and in the case of the press, it could even prescribed to a duty to critique and bring forth the shortcomings of be it the Govt. or politicians, all such reporting should be backed by irrefutable evidence. While the press is rightly protected against defamation in such a contexts, exploitation of such a protective measure is not in the right spirit.

There seems to be a malafide intent and bias from the very beginning of the cover story, Smriti, A Fading Memory? In the very opening paragraph the article says, Smriti Irani, having been made a cabinet minister, accepted
congratulations "as if it was her due". Neither is the verbatim of her being "kicked out" is not in good taste. Very interestingly the story goes on to cite grave allegations on the basis of various "anonymous sources" making allegations against the minister.

The article clearly voilates the Norms of Journalistic Conduct laid down by the Press Council of India.
Where Norm 1 1. Accuracy and fairness guides the press to eschew publication of misleading or distorted material and all sides of the core issue need to be reported. It also states that unjustified rumours and surmises should not be set forth as facts.

Even though, the cabinet minister had previously responded on a leading Television channel on many of these allegations and the tweet by the MP Meenakshi Lekhi , the article chose to ignore the clarifications paint a one sided picture.

Here are only eleven such,   as every other sentence seems totally distant from media ethics.

1.     And the buzz in BJP circles is that she is likely to "be cut to size".

2.     From Sources in the BJP – She has overplayed her hand in trying to position herself as someone who is close to and favored by Prime Minister Narendra Modi. Simultaneously, she has also thrown her weight around in the party, with even colleagues in the government, as also bureaucrats.

3.     For one, well-placed sources reveal that she wouldn't stand up to greet BJP veteran (and the very polite) Union home minister Rajnath Singh;she would keep sitting in her chair.

4.     There is also the story of a verbal cat fight inside the national headquarters of the BJP with another woman leader and an older account of Smriti pushing out a woman who had come to a Mahila Morcha meeting when she
was in charge.

5.     An important BJP member also tells a more recent tale of writing to two ministries on a matter involving women. There was no reply from the HRD ministry though the home ministry sent a prompt letter.

6.     Says a BJP insider, "If she thinks someone may not be important in the larger scheme of things she will not give time. If she imagines someone is against her, she will sometimes not greet him or her. But till now in internal meetings or public rallies where the prime minister was present, she would carry herself like the queen bee of the proceedings. That is why people are quite pleased that Amitbhai has kicked her out of the national executive."

7.     A member of the NE told Outlook , "Many people at the meeting wondered if Smriti had just had a tantrum and taken her temper out on Fabindia since she can't shout at Amit Shah and throw files at him."

8.     A senior BJP leader puts it quite bluntly, "She is very charismatic, bright and hard-working. But she seems to love a fight and that is something that is not required in peacetime. She seems to like controversy as it keeps her in the news. But her PR is so bad. Instead of charming people who come to meet her, she makes them uncomfortable. She is talented, so we are hoping to get her to change her ways."

9.     "A group from IIT which went to meet her in the avatar of HRD minister had this to tell: the minister declared at least "seven times" that she was not illiterate. She was somewhat offensive, said one of the members, as she had perhaps decided that offence was the best form of defence.

10.  Says a woman leader from the BJP, "Smriti has also been the butt of sexist barbs and comments in Parliament and under normal circumstances we should all have been rallying around her. But the problem is that she does not seem to like most of us, so some of us would not dare to commiserate with her."

11.  "The problem in Smriti's approach to politics," says a BJP insider, "for which she has the talent and the ambition, is that she has found it necessary to seek godfathers, and if they don't exist, to invent an imaginary closeness to powerful male figures."

Apart from the above rumors (sic) from "sources" the article also high handedly declares as facts what could only be vague inferences from gossip

1.       Smriti certainly has attitude way beyond her stature in the BJP.

2.     Flaunting proximity and then being discourteous to others is what has been her undoing.

3.       She has just put off so many people that from heroine she is now being painted as the villain.

The article also ventures into areas which are very explicitly against Norm 3. Caution against defamatory writings (xi) Freedom of Press does not give license to a newspaper to malign a political leader or mar his future political prospects by publishing fake and defamatory writings.

The specific nature of the claims the article makes , i.e. , "that she may lose the HRD portfolio and be shifted to a less significant ministry; that she may be altogether dropped from the cabinet and put to party work"  , is not just violating the norm but setting up a narrative of a  wobbly leadership could disrupt a functional ministry and is not in national interest.

Outlook also published an article by the title No Jottings, The Babu Has Left the Building, here again we have these anonymous sources whose veracity is worthy of shaping perception, which again violates Norm 1.1.
and parade gossip to chalk a narrative.

1.     "She was made minister with a cabinet rank as she was thought to be amenable to both the BJP agenda and that of the RSS," says an RSS ideologue. "Our agenda is not the same as Modi's. Smriti was seen as a neat compromise."

2.     "She is articulate, smart and has a quick wit and is intelligent enough to know that she knows little about what she's dealing with," explains a vice-chancellor of a central university in northern India. That said, she's quick to assert an "I know" even when she doesn't get it. Also, if one tries to instil an idea into her head, or explain anything new, she's quick to retort, "I know my work" or a "This is not your classroom, this is my ministry".

3.      Another senior HRD ministry official is so fed up he's thinking of going back to his home cadre. "She is fairly democratic in her rudeness," he laughs, "it doesn't matter if the person is head of a coveted institution or an undersecretary." In one instance, she is alleged to have thrown a file at an additional secretary-rank officer at a meeting. Later, she apparently apologised to him, saying it was her wedding anniversary and she was "tense", even telling him she would "restore his honour". He, instead, sought a transfer.

4.      The tone and tenor of her parlance with ministry functionaries has often been described as unparliamentarily. "The PMO knows it," says another joint secretary in the HRD ministry who has applied to go back to the home cadre, "I hope they do something about it."

5.     A V-C who is well into his 60s hits the nail on its head. "I thought of her as a breath of fresh air. Her predecessor from NDA-I, Murli Manohar Joshi, a professor of physics in Allahabad University and my contemporary, arguably was the worst HRD minister India has seen. But now I feel Smriti is giving even him tough competition. Ignorance is not always bliss," he says.

6.     She is defensive and reactive, both at the same time," says a joint secretary who's trying hard to evolve some kind of a working relationship with Smriti. "She's also a bad listener. She should realise that the HRD ministry is a complicated maze. There are so many hallowed institutions, the IITs, IIMs, UGC etc with their own philosophy and work ethics. They are all manned by learned people. There is much to learn before you start to act."

7.     Another director-level officer empathises with her, "Her job is not easy. She has to work with the bureaucracy that in turn deals with academia. Sure, the wise old heads of academia have a big ego, but she has an even bigger ego. She is, after all, the government."

This article also violates Norm 3. Caution against defamatory writings (xv) Public Interest and Public Bodies Newspapers should refrain from barbed, stinging and pungent language and ironical/satirical style of comment. ,where the author questions as to

1.     "How an actress who has faced the biggest of television cameras of all sizes and shapes could get so rattled by a pinhole CCTV eye, we will never know."

The article in its distasteful irony about the Fabindia incident ,not only ignores the offence (Section  354C of the Criminal law (Amendment) Act, 2013  ) and to that effect sides with the offender but also seems to take a stand on instructing the victim, a women , a citizen of India, on how to and how not to cry when being victimized. Since such perverted actions subjected against women are as much a social evil as any the article to that effect is violating Norm 18. Glorification/encouragement of social evils to be eschewed.

This article violates Norm 1. Accuracy and fairness, by intentionally portraying a one sided narrative, despite the clarifications given by the Union minister to a leading television channel, on the very same issue of officials leaving the ministry.

Outlook also published an article titled The Better Bindi Diplomat. Here the title only objectifies two of India's cabinet ministers with their attires namely their 'Bindis'(a vermilion circle in traditional Indian attire) .The press can do better to recognize women of India by their caliber and their accomplishments than only objectify them with their chosen prerogatives when it comes to their attire.

Finally, Norm 16.Editor's discretion ii) and iii) , requires the editor to ensure "all views are given equal prominence" and " omit the parts of a material whose veracity is not beyond doubt" respectively.

If the editor is indeed beyond doubt regarding the veracity of the articles, the readers expect at least a reason as to why the source were not named, what fears did the sources entertain that Outlook could not name them and what does Outlook think of those fears and their alleviation.

Therefore, the undersigned demand the Editor of Outlook issue an immediate public apology to Mrs. Smriti Irani, rescind all defamatory articles against her, and print the apology in the next issue of the publication.

Sincerely,
The Undersigned
Source: WHN Media Network