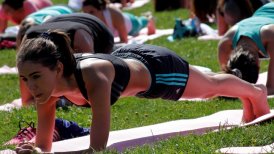 CHILE, September 29, 2015 (Cooperativa): With 83 votes in favor and 17 abstentions, the House of Representatives approved the bill which establishes November 4th of each year as the National Day of Yoga. The bill's dosier was submitted to the Chamber by Deputy Marcelo Schilling (PS) of the Sports Commission.
Lawmakers said that at present this discipline has spread throughout the country and is practiced by children and adults of all ages and socioeconomic levels; further they stressed that "it is a physical, mental and spiritual activity able to enhance certain qualities for individual and social development of the people," as stated on the Camara de Diputados (House of Representatives) website.
In Chile, the start of this practice dates back to 1964, with the arrival of the Mexican teacher, Jose Rafael Estrada, who founded the first institute of yoga in the country on November 4th of that year.