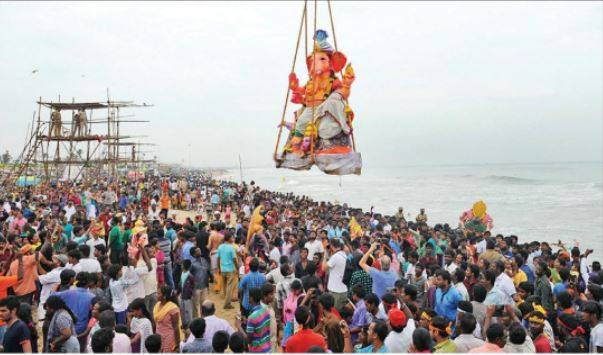 CHENNAI: Thousands of revellers out to immerse Ganesha idols at the end of the 10-day Vinayaka Chaturthi festivals turned the calm Sunday streets to a frenzy on Sunday, with stray incidents of harassment marring the mood. And motorists in certain parts of the city were caught in a dizzy as two-wheelers, trucks and tempos made their way to the sea beaches in different parts of the city.
Police blocked roads in areas like Bells Road in Chepauk and Quaid-e-Millath Road, Santhome High Road and Kamarajar Salai to make way for processions. Entry to Santhome for MTC buses and other vehicles was closed after 3pm as they were asked to take a detour via R K Salai but the congestion spiralled and many commuters were caught in traffic for nearly three hours.
Nearly 2,700 Ganesha idols were taken out in autorickshaws, trucks, bullock carts and horse-drawn chariots for immersion in places like Srinivasapuram in Foreshore Estate, Palkalai Nagar in Palavakkam, Kasimedu fishing harbour, Thiruvottiyur and Ennore. Although a large posse of police personnel were deployed, they remained mute spectators to the chaos caused by the revellers. Covered in pink coloured powder, the revellers threw everything from flowers, coloured powder, paper plates, cups and even water at motorists, especially women on the road. Many of them carried banners and flags of outfits like the Hindu Munnani, Hindu Makkal Katchi and Hanuman Sena.
The roads bore the trail of the festivities with plastics strewn all over. On the beaches the mound of mess kept growing as banned Plaster of Paris idols were lowered into the sea water. At Srinivasapuram the precise arrangements of constructing three watch towers for police personnel and two cranes to immerse large idols did little to organise the process. Not many had the patience to wait their turn, and took it upon themselves to take the idol into the sea while the police watched the action unfold. "It is fun supposed to be fun to watch the idols in a procession," said K Ramajeyam, one of the many bystanders on Kamarajar Salai. "But the people accompanying the idols are acting like hooligans," he said.
According to police, there were minor clashes at Srinivasapuram. "No untoward incident was reported and the immersion was peaceful," said a senior police officer.