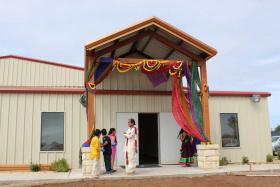 By JOSIE MUSICO
A-J MEDIA
For some, it's a decades-long dream.
Nestled in a three-acre corner of the southeast part of town, Hindu Temple of Lubbock formally opened Saturday. A committee of organizers spent the past two years working and raising funds for the project.
Some, though, can trace their wishes for the house of worship back much further.
"This was our 20-year dream come true," member Tarun Patel said.
The temple, 1400 84th St., contains a main worship area adorned with idols. The two main ones, Radha and Krishna, are particularly eye-catching.
Saturday, the shrine was filled for a religious offering called a Prasad. Bowls of fruit, nuts and other goodies lined tables under the alter. Think of it like a potluck, in which God is served first.
Families bring the food, then wait for it to receive a blessing. Later, they eat.
The South Plains' Hindu community numbers around 700, temple organizers estimate. Before it opened, many met at a local hotel for worship services.
"It's a blessing for this entire community and a long time coming," said Ramesh Krishnan, another follower.
Jigna Patel, an excited worshipper, pointed out the temple does not represent a particular Hindu denomination.
"Any Hindu can come here — there's no sect," she said, then corrected herself about its invited guests: "Basically, it's universal — anybody can come here. You don't have to be Hindu."
A community hall near the main worship area is available to rent for events; temple leaders request visitors do not bring alcoholic beverages or meat.
Hinduism is the world's third-largest religion, after Christianity and Islam. It's also a monotheistic faith, Jigna Patel clarified. Misconceptions of multiple gods could come from the faith's different idols, she suspects.
josephine.musico@lubbockonline.com
766-8796
Follow Josie on Twitter
@josiemusico