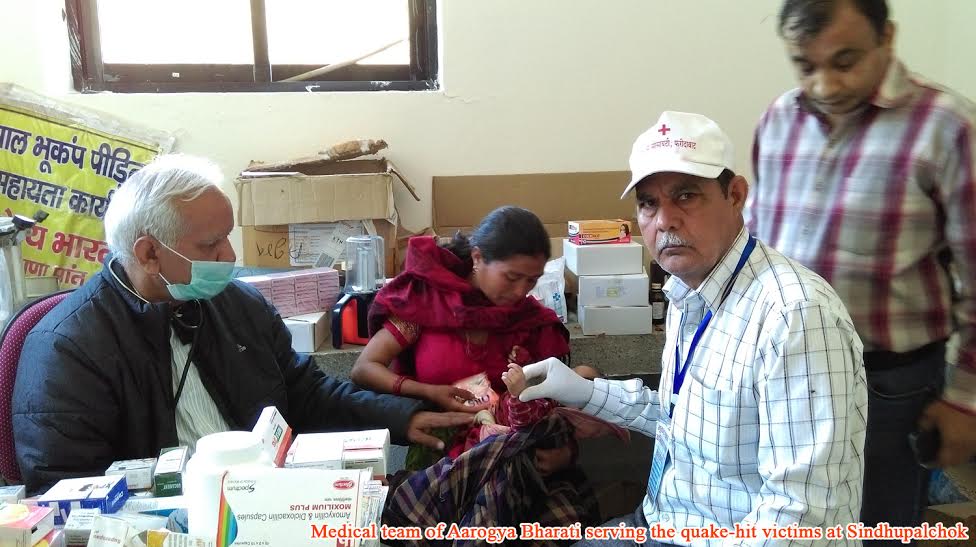 On April 25, 2015 when the 7.8 magnitude earthquake hit Himalayan range nation of Nepal, it took one of the worst catastrophic tolls in human history in terms of lives destroyed, lives lost and the economic damage it inflicted on all facets of poor country's life. At last count, more than 9,000 people had reportedly lost their lives, 28,000 were injured, almost 40,000 people were homeless, millions were displaced and tens of thousands businesses were destroyed. Worst hit were the Villages.
Unlike other rescue-relief Organizations that converged on Nepal in the aftermath of earthquake, 'Ekal Vidyalaya' already had deep roots in Nepal for years and therefore had personal stake in rebuilding this nation and its lives. As of April'2015, Ekal had 1,500 schools operating in Nepal's rural areas. Ekal, was not only familiar with its people, its culture and life's necessities, but also, had well-established rapport with the local governments. Shri Shyamji Gupta, Founder-Chairman of "Ekal-India" happened to be in Nepal when the earthquake struck and so he personally initiated the relief efforts after witnessing the tragedy first-hand that unfolded.
As the news of destruction hit the world, 'Ekal Orgz' under the leadership of Ravidevji Gupta sprang into action to start coordinating rescue, relief, and rehabilitation efforts with its selfless volunteering force of 1,600 Nepali regulars, within hours. A comprehensive plan for helping out victims was charted. Food and water were made available immediately. Medicines and shelter equipment for the displaced were dispatched overnight from India. Considering the extent of mind-boggling human toll, Bajrangji Bagra, President, Ekal-India immediately allocated Rs. 1 Crore for this humanitarian work. 
Within days, Ekal's own survey indicated that 626 Ekal-Villages were affected, 365 Ekal teacher's housings were destroyed and over 250 Ekal schools were badly damaged. In earthquake ravaged regions, Ekal extended help irrespective of people's personal affiliations, caste, region and creed as its motto life is. Besides, essential food items and medicines, 9743 tarpaulin, and 11,500 blankets were distributed through Ekal-Parivar, which benefitted approximately 5,000 families in 400 villages. The team of Doctors also treated 500 patients in 'Sindupalchowk' district and 400 patients in 'Lalitpur' district alone for wounds, gastric problems, psychiatric interventions and orthopedic injuries. Ekal-USA, through its appeals to Donors raised hundred thousand Dollars for Nepal-relief.  According to Subhashji Gupta, past President and current Advisor to Ekal-USA, total commitment of Ekal in Nepal is likely to exceed Rs. 2 Crores. 
​Rehabilitation is the major task ahead and Ekal is into it for a long haul. ​Ekal-Pariwar's future plans include building 4 hostels for earthquake-afflicted children where they could be appropriately looked after and groomed and also establishing community centers in badly affected village for collective activities. Ekal is also exploring possibilities of adopting 'villages' for rehabilitations. This is going to require lot more funding. Therefore, Ekal is currently seeking generous financial support from our community-at-large. Pl donate generously at www.ekal.org. "Ekal Vidyalaya Foundation" is tax-exempt duly registered charity Organization in USA.   
Source: WHN Media Network