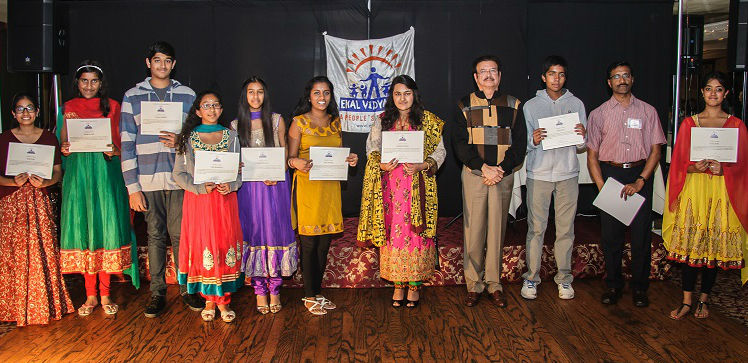 The North Los Angeles and Tri-Valley chapter of the Ekal Vidyalaya Foundation of USA held its annual year-end fundraiser at Royal Delhi Palace in Canoga Park, Calif. Dec. 14, raising over $75,000 in pledges to support Ekal schools.
The program kicked off with emcee Maya Halthore welcoming the sold-out crowd of more than 200 guests.
Chapter president Suresh Iyer highlighted the mission of Ekal Vidyalaya, which is to eradicate illiteracy from over 100,000 remote tribal villages in India by 2015.
As of December this year, Ekal Vidyalaya has set up around 55,000 schools educating over 1.6 million children.
Iyer also spoke about the Houston, Texas-based nonprofit organization's efforts to provide a holistic education in order to make villages economically self-sufficient while aiming to improve literacy rates.
He informed the audience that it took only $365 to support an Ekal school of 30 to 40 children for a whole year, as part of the organization's "Dollar-a-Day" program.
The chief guest at the event was Dr. Ushakant Thakkar, a local philanthropist and nephrologist who runs one of the largest kidney centers in Southern California.
Thakkar, in relating his passion for education and expressing his support for organizations such as Ekal, UNICEF, Dharma Civilization Foundation and Pratham, pledged to match every dollar donated to Ekal by the audience. By the end of the evening, over $75,000 in pledges had been raised — including the match by Thakkar — to support more than 200 Ekal schools.
Narayan Pallavur, an Ekal donor and volunteer, also shared his experience of a recent transformative visit to one of Ekal's schools in Coimbatore, India, urging the audience to go see an Ekal school during their next trip to India.
The fundraiser also featured an entertaining two-hour performance by singers Nauzad Sadry and Kainaz Pandit, who drew guests to the dance floor with both current and classic Bollywood hits.
Moved by the work of Ekal Vidyalaya, Sadry told the audience he would make a donation towards two schools.