Taki in West Bengal's North 24 Parganas district is the last Indian outpost on the border with Bangladesh. It is one of hotspots for Bangladeshi infiltration into India. While most poor Bangladeshis cross over to look for work, terror groups take advantage to ferry their men and material into India. Indrani Roy/Rediff.com reports.
Taki, a town under Hasnabad police station in the northern fringe of West Bengal bordering Bangladesh, is one of the most popular tourist sites for the people of Kolkata.
With the river Ichhamati separating the town from the Bangladesh district of Khulna, Taki is known for its non-communal bearing and has been a peaceful home to Hindus and Muslims for years.
However, despite the positives, this picturesque township has often been used by Bangladeshi infiltrators as an easy gateway into India.
It is alleged that in 2011, more than 100,000 Bangladeshis had sneaked into India on Dashami(the last day of Durga Puja) amid the milieu of bisarjan (immersion) on the India, Bangladesh banks of Icchamati.
Immersion of Durga idols has always been a gala affair at Taki since Independence.
On the last day of the festival, idols from the two Bengals used to be ferried in boats to the narrowest stretch of the river with border forces on both sides keeping a watch.
But in 2011, security seemed to have gone haywire. Else so many people could not possibly have crossed over.
Since then, cross-border immersion at Taki has been stopped and security beefed up.
It has been made even tighter recently subsequent to the Bardhaman blast on October 2.
Investigations revealed that cadres of the terror outfit Jamat-ul-Mujahideen Bangladesh, who had illegally migrated to Bengal a few years back, were involved in the explosion.
With infiltration issue hitting the headlines thereafter, we wanted to find out how protected is this important border town of Taki at present.
How successful are the Border Security Force personnel in tackling the problem? Do the people living here feel safe?
In search of answers, we set out for Taki on Monday.
MUST READ
Did this Bengal madrassa train terrorists?
What went on inside Bengal's house of terror?
REVEALED: How the terror factory thrived in West Bengal
'If the administration is rotten, what can one do?'
Our first destination is Syedpur, a village inhabited by 110 Muslim families.
An apology of a road leading to the place meanders for about 4-5 km right to the mouth of Ichhamati.
People here are mostly fishermen and farmers and a fight with poverty comes as natural to them as breathing.
A technical word like 'infiltration' does not make much sense to them.
'People from the other side come and go' is all that they are aware of.
For instance, fisherman Noor Mohammad Sardar, a middle-aged man, knows for sure that despite the strictures, people from 'the other Bengal' have not stopped moving in.
"Bardhaman kander por nojordari berechhe thiki tobe asha jaoa thameni moteo (Laws have been stricter following the Bardhaman blast but that has not stopped people crossing over from Bangladesh)," he tells rediff.com.
Asked if more than one lakh people had entered India during Durga idol immersion in 2011, Sardar says he had witnessed the "chaos" that year.
"However, such a massive influx is not possible now," he adds.
"Kintu lok akhono ashe opar theke, ki korbe peter tan je (People keep coming from Bangladesh. After all, they have to earn their living)," he told rediff.com.
"We tracked 12 illegal immigrants a few months back. They had swum across the river and were trying to get into the mainland," Sardar says.
"These people had fake Indian Permanent Account Numbers and voter identity cards.
"We handed them over to the BSF. What happened to them, nobody knows. Often these illegal immigrants are set free for bribes," the fisherman tells rediff.com.
"Laws around the border areas are meant to be broken. If the administration is rotten, there's nothing one can do." he muses.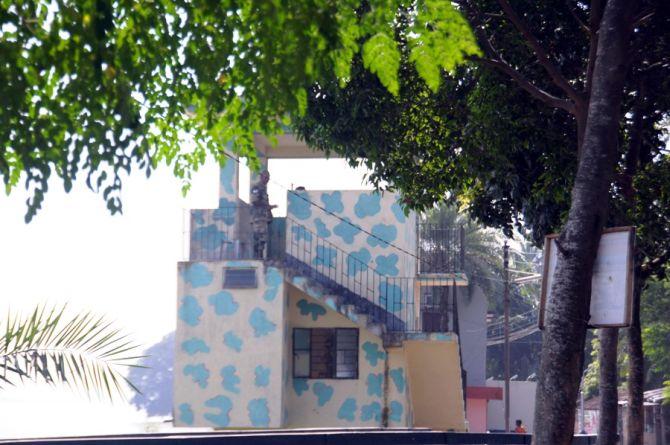 A BSF watchtower in Taki

'Not a soul can cross over now'
A BSF officer posted at Taki vehemently refutes Sardar's allegations.
"We are keeping a strict vigil across the borders 24×7," Sivratan Singh, assistant sub-inspector with BSF's 160 Battalion, told rediff.com.
"Ever since the (Narendra) Modi government came to power, the borders are secure. We don't allow illegal immigration.
"In case there is any movement along the river, our water wing commandos take stringent action," Singh said.
Asked about the huge illegal immigration of 2011, the ASI replied, "It happened in the past."
"It's an unpleasant memory that is buried. Let's talk about today and tomorrow," he says.
Singh also denies the Syedpur fisherman's claim that some infiltrators were handed over to the BSF recently.
"There is no such incident in our record," he emphasises.
'BSF jawans and the infiltrators work hand in glove'
The BSF's statement is pooh-poohed by coconut seller Ajoy Das, who has been living in Taki for about three decades.
"Didi, BSF-er songe onuprobeshkarider bojhapora bohudiner. Sarkar ashe, sarkar jaye kintu ei somporko ta thekei jaye (an 'understanding' between the illegal immigrants and the BSF goes back in history. Governments keep changing but this 'relationship' stays for good)," Das tells rediff.com.
The whole world knows that unemployment is a serious issue in Bangladesh, he adds.
"And those who cross over are mostly poor people looking for work. However such 'movements' give people with evil designs a chance to get into India."
How to address this problem, we ask him.
"Those in charge of the border security (read BSF) work hand in glove with the Bangladeshis intending to move in," Das replies.
"The government must take harsh steps against corruption around the border areas. Only then, can the infiltration issue be handled."
'Things have improved but the problem is yet to be eradicated'
Das's words are echoed by Sagar Roychowdhury, who runs a lottery business in the town.
"Infiltration has been going on for years.
"After the 2011 incident, security has improved but the problem has not been eradicated," he tells rediff.com.
"Smuggling and infiltration across the borders continue as usual."
"However, after the blast at Bardhaman's Khagragarh, residents here have become alert and the moment they come across any suspicious person or a group, they either inform the police or the BSF," he adds.
Like Das, Roychowdhury too alleges that the border security personnel are aware of this 'movement' and that there is a tacit approval from their end.
"The government has not been able to stop either smuggling of goods and animals, or illegal immigration from Bangladesh," he tells rediff.com.
Most of the illegal immigrants, Roychowdhury said, take up jobs as agricultural labourers, masons and brick kiln workers in the area before moving to other parts of the state.
"You will find many children between 8 and 14 years working in the brick kilns here. They get a measly sum of Rs 20-Rs 30 a day," he tells rediff.com.
While the kilns act as protective shelters for the illegal immigrants, they also offer them means of livelihood.
As we moved around Taki, we came across many such brick kilns that employ children in large numbers.
Where do you come from, we ask and get giggles for answers.
Slightly older ones, however, point to the other side of the Ichhamati river — Bangladesh.
Where are your parents, we prod again.
"Don't know," comes the collective reply before the entire group takes to their heels.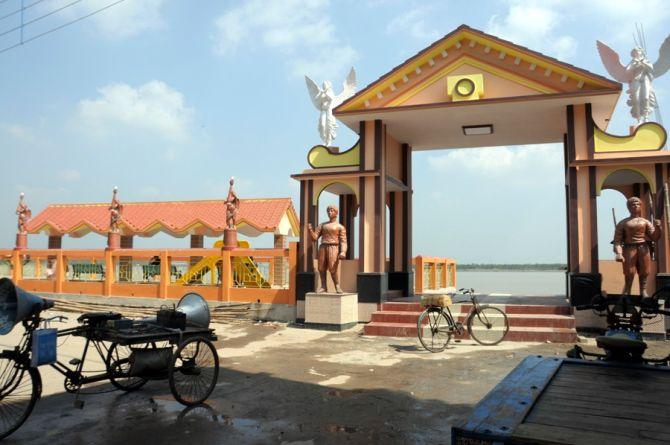 The Ichhamati riverfront at Taki

'The Government must ratify the land boundary agreement'
To Diptiman Sengupta, assistant secretary, Bharat Bangladesh Enclave Exchange Coordination Committee, the root of the Indo-Bangla border problems runs deep.
As an essential primary step, the government needs to ratify the boundary agreement between India and Bangladesh, he says.
"The LBA Bill was tabled in Parliament in November 2013, when the United Progressive Alliance was at the helm. It is yet to be passed by Parliament.
"The government must act fast to stop infiltration for the sake of national security," Sengupta tells rediff.com.
The LBA entails exchange of certain enclaves (stateless hamlets) on both sides.
"People from Bangladesh cross over to India mainly through four state corridors —  Assam (through Dhubri), Tripura (through land adjoining Bangladesh's Chittagong), Meghalaya (through areas bordering Sylhet) and West Bengal (through Nadia, parts of North Bengal, South and North 24 Parganas)."
"In some parts, there is no proper fencing and the borders are mostly unprotected," he tellsrediff.com.
According to Sengupta, after entering Bengal, some of the Bangladeshis travel to northern part India, especially areas around New Delhi.
"Many of them take up jobs there as domestic help at an initial stage," Sengupta says.
"Any government that comes to power voices its concern over infiltration posing a security threat but does little to guard the borders effectively.
"It has been reported in the media time and again that about 70 lakh (7 million) Bangladeshis are working in India," he adds.
"If we multiply 70 lakh by 365 days, we get 25 crore (250 million) mandays.
"Isn't this reason enough for the Indian government to take the Land Boundary Agreement as well as the infiltration issue seriously," Sengupta asks.
"While there are 51 Bangladeshi enclaves in West Bengal's Cooch Behar district, there are 111 Indian enclaves spread over four districts of Bangladesh."
"It's impossible to counter infiltration unless the government does something to better the living conditions of these people", Sengupta tells rediff.com, adding, "Ratifying the LBA will be the first step towards that direction."
Like Sengupta, residents of enclaves have been raising the same demand for years.
An approval for the pact will prove beneficial for India's efforts to fight infiltration, they feel.
India seeks cooperation from Bangladesh
A dossier that India handed over to Bangladesh recently reverberated with Sengupta's concern.
Terrorists trained in several camps strewn over Bangladesh are crossing over to Tripura, Assam, Meghalaya and West Bengal, the dossier stated.
While India urged the Bangladeshi government to identify and demolish these camps, it also sought cooperation to stop infiltration across the Indo-Bangla borders.
Moreover, Hasanul Haq Inu, a senior minister in Bangladesh, was recently quoted in the Indian media as stating, "Bangladesh's court has delivered justice to the leaders of Jamaat-e-Islami, who committed war crimes in 1971.
"Jamaat is now garnering support from Pakistan and is using the Indian territory. India needs to prevent this," Inu had said.