By Emily DeFeciani
Sunday, February 21, 2016 at 05:36 PM EST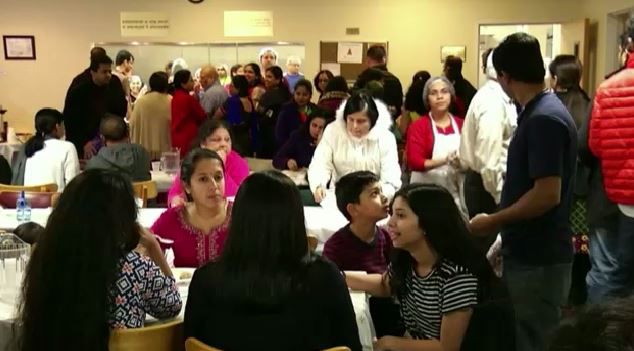 COLONIE, N.Y. — Two local families are getting support from the Loudonville Hindu Cultural Center. Members of the Temple hosted brunch Sunday to help raise money.
"You always think it happens some place else, you never think it will happen where you live with people you know," said Sgt. Jason Bach with the Colonie Police Department.
Less than two weeks ago, tragedy struck within the Colonie Police Department. An officer shot and killed his wife and son before setting their Latham home on fire and taking his own life. The family's other child, 15-year-old Noah Roman, wasn't home at the time and is the sole survivor.
"It hurts, it hurts a lot, but we've been there for each other," Bach said.
About a week before that, multiple families watched as fire destroyed their apartments in Guilderland.
"We lost everything. Only the sleep pajamas we came out with, that's the only thing we had" said Premjeet Sougrakpam, a victim in the Guilderland fire.
Now the surrounding communities are coming together to honor the service men and women that responded in each incident.
"This facility has been helped a lot by the Town of Colonie Fire Dept, Police Dept, all of them," said Rasik Shah with the Hindu Temple Board of Trustees.
"They are there whenever we need," added Tarum Narravula, also on the Hindu Temple Board of Trustees.
They're also helping to support the survivors. Members of the Hindu Cultural Center in Loudonville opened their traditional Sunday brunch to the public, serving home cooked Indian meals to hundreds.
"The turnout is very heartwarming. This is a reflection of how our community is willing and eager to help out our friends and neighbors," Shah said.
"It shows what compassion people still have in their hearts and people can really help take care of each other," said Bach.
"I'm so thankful and grateful to everybody," added Sougrakpam
All proceeds will go to Premjeets Sougrakpam's family, as he is a member of the temple, as well as toward Noah Roman's trust fund.
"We may not have enough money to solve all their problems, but we have enough love to support them, that's what we want to show," Narravula said.