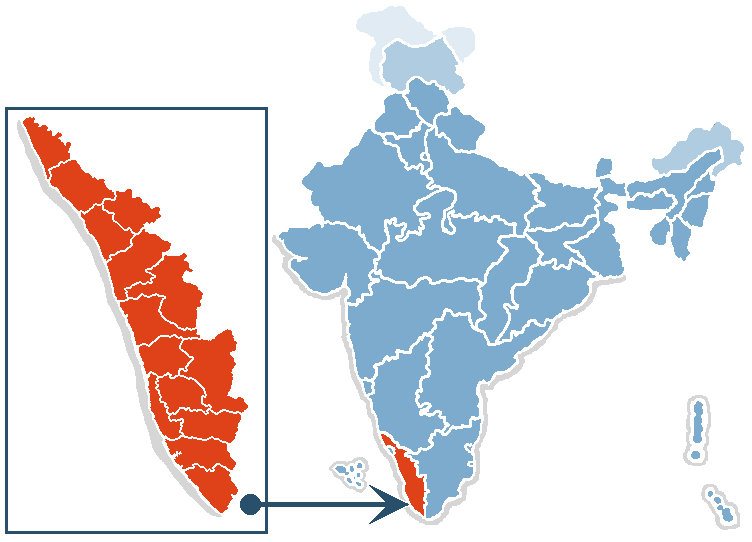 Thiruvananthapuram, Sep 6 (PTI) Janmashtami was celebrated with traditional fervour and gaiety across Kerala today, with a steady flow of devotees to all temples and processions and tableaux depicting Lord Krishna's life.
The famous Sree Krishna Temple at Guruvayoor and Sree Krishna shrine at Ambalapuzha saw heavy rush of people right from early morning.
As part of the celebrations of Sree Krishna Jayanthi, as it is termed in Kerala, more than 10,000 colourful processions, organised by 'Balagokulam', an RSS backed children's outfit, were held at different parts of the state.
Children dressed up as Lord Krishna in glittering robes and ornate headgear depicting various stages of his life took part in the procession to beats of 'chendamelam'.
There were also decorative floats showing stages of Lord Krishna's life.
Meanwhile, amid tight security and tension, Janmashtami processions and Onam celebration pagenatries sponsored by CPI(M) backed Balasangham passed off peacefully in different places in politically sensitive Kannur district.
Tension prevailed in the district as the celebrations came close on the heels of the political clashes between CPI-M and RSS-BJP workers in various areas.
A large number of children and women took part in Onam processions, in which tableaux depicting social themes formed the highlight.
Heavy police force had been deployed in the district as a precautionary measure and to prevent any untoward incident.
Apparently in a bid to check erosion of its cadre base, CPI(M) sponsored outfits recently observed Ganesh Festival and Sree Narayana Guru Jayanthi, on par with RSS-BJP in Kannur.
Though cultural procession of CPI(M) supported outifts was widely seen as 'Sree Krishna Jayanthi' celebrations to compete with RSS-BJP, the party officially termed these as part of an event to wind up of Onam celebrations.
CPI(M) district leadership said the objective was not to allow communal forces to 'hijack' the festivals of Kerala and so outifts like Purogamana Kalasahitya Sngham and Deshabhimani Balasangham are organising the programme.