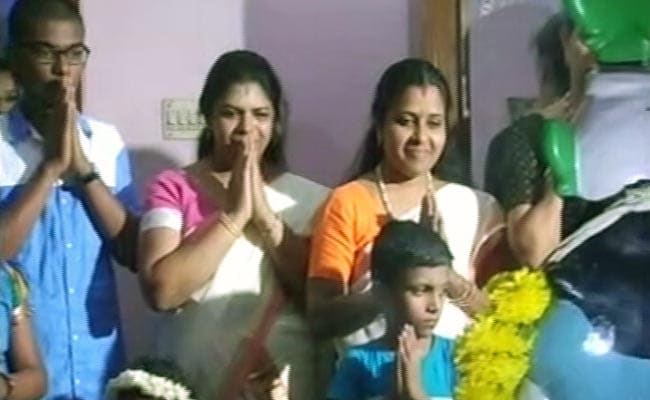 THIRUVANANTHAPURAM:  Kerala Hindus celebrated Vishu, ushering in their New Year, in the traditional style with the devouts among them making early morning visits to temples today.
Women dressed in Kerala saree and men in conventional dhoti were seen visiting temples. The maximum rush was witnessed at the famed temples like Sabarimala, Sree Krishna temple Guruvayoor, and also Sree Padmanabha Swamy temple in the capital city.
Vishu is believed to mark the arrival of good luck for the coming year and is a public holiday in the state.
The most waited event today is to have the 'Vishukani darshan' – the auspicious sight of the favourite deity.
In Hindu families, preparations for Vishukani starts the night before the New Year with 'urali' (a special vessel) being cleaned and fresh farm produces being collected and arranged.
The items that are placed before the deity include rice, food grain, cucumber, pumpkin, coconut, plantains, mangoes and arecanut.
All these are arranged in the worship room of the house that is decorated with the bright yellow konna flowers (cassia fistula) – also known as the Golden Shower Tree.
Readymade kits were also available at the market at a price of Rs. 150, up by Rs. 50 compared to last year.
The young and old come blindfold in front of the Vishukani, on this day,  that is placed in front of their favourite deity and see this as the day's first sight.
Another important feature is the giving away of 'vishukaineetam', and it is mostly gifted away in the form of coins.
The general custom is the head of the household gives away coins to other members.
Another important event on Vishu day is eating the 26-course Vishu lunch served on a plantain leaf. While in the central and southern districts of Kerala, the lunch is purely vegetarian, in northern districts it includes non-vegetarian dishes.
Bursting of crackers is also a necessary part of the rituals in the northern parts of the state.