Kundapur, Oct 15: "Indian history is not a history of defeats, it is a history of constant conflicts. RSS is the only organization engaged in national service by way of a silent revolution," said Janardhan, Rashtriya Swayamsevak Sangh (RSS) Mangalore Vibhag Saha Karyavaha in Kundapur.
Janardhan was speaking at an RSS training programme for Udupi district volunteers and public meet.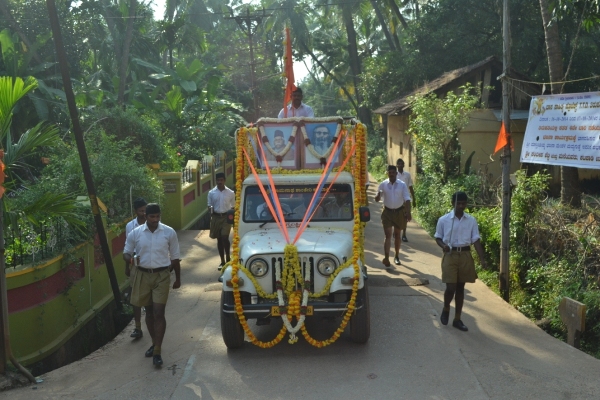 "We have put up with foreigners' invasion from the pre-Independence era until now. It does not mean Indians are cowards. India is a place of peace and tolerance. RSS cannot take the misuse of Indian values," he said.
"The same people who spoke against RSS have accepted it now, which shows the service-mindedness of the RSS," Janardhan added.
"Our objective should be to serve the nation. We want India to be the topmost county in the world. We are working on this motive." He concluded.
An attractive parade of volunteers was held in Kundapur town before that.
Chandrashekar, the owner of Kalpatharu Industries presided over the function. RSS Udupi convener T Shambhu Shetty, Subrahmanya Holla and Pradeep from Mangalore Vibhag were also present.