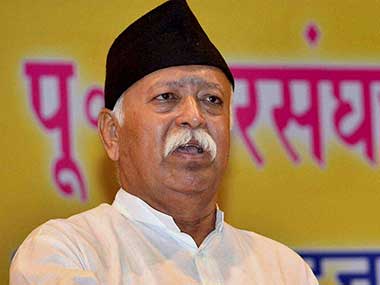 Lucknow Uttar Pradesh Governor Ram Naik late Tuesday hosted RSS chief Mohan Bhagwat for dinner, officials said on Wednesday.  Bhagwat was closetted with Ram Naik at the sprawling Raj Bhawan for over an hour, informed sources said.
While the content of the meeting between the two leaders was not known, sources said the topic of discussion "was largerly Uttar Pradesh".
"Association of the two leaders goes back decades and since the two are from Maharashtra, the governor extended a personal invite to the RSS chief," an official toldIANS and added that no political or other motive be attributed to the dinner meeting.
The Rashtriya Swayamsevak Sangh (RSS) is holding a meeting of its 'Kendriya Karyakari Mandal' between 17-19 October in the state capital and the entire top brass of the RSS is in the city and preparing for the draft of the meeting which is likely to give direction to the Sangh and its affiliates for the year round.
Sources said the points that would be discussed include international issues like the threat of ISIS, skirmishes on the India, Pakistan border and China, Indian border, terrorism and domestic front issues like forcible conversion.All senior RSS leaders including Suresh Soni, Krishna Gopal, Suresh Joshi Bhaiyya ji and Manmohan Vaidya are staying at the Saraswati Kunj in Niralanagar and have been deliberating on the issues that the meeting will take up.
The meet is also likely to take up the "political environment" in the country, specially after the BJP-led National Democratic Alliance (NDA) took over at the centre under Prime Minister Narendra Modi.
A draft document is also being prepared to demand development – both cultural and infrastructural – of ancient Hindu cities like Allahabad, Mathura and Varanasi.