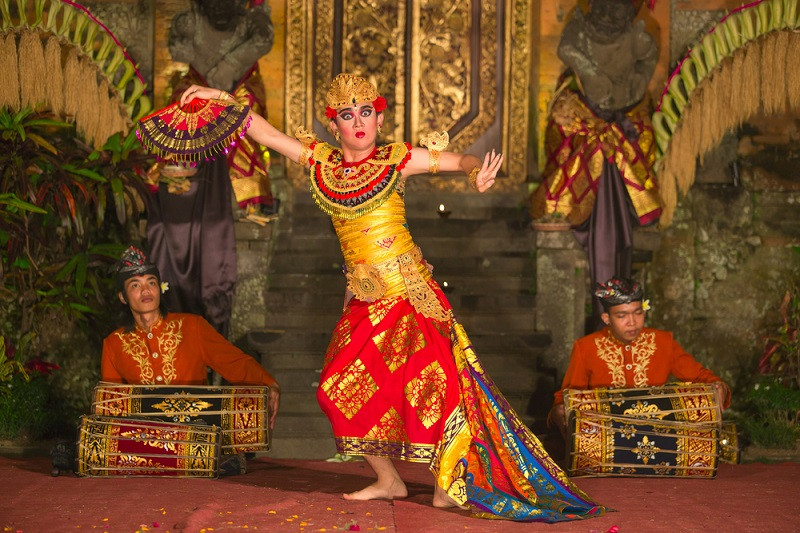 Legong, a traditional Balinese dance, performed in Ubud, Bali. (Shutterstock/Ko Backpacko)
At 63 years old, Tjokorda Oka Artha Ardhana Sukawati has dedicated his life to Balinese arts and culture. The prominent member of the Ubud royal family and the Bali deputy governor, popularly called Cok Ace, actively performs the sacred dances of Calonarang and Topeng Sidakarya in religious ceremonies at temples across Bali. For Cok Ace, dancing is not about getting applause from the audience, let alone money.
"I never think about how many people will watch me dancing. I never think whether people will applaud me or not. For me, it's all about sincerity. A 100 percent offering to God," he said.
Cok Ace, who is also the chairman of the Bali branch of the Indonesian Hotel and Restaurant Association, said he felt sad to see sacred dances being performed only for tourists. The dances are also often performed at tourism festivals, including to break Indonesian-held world records.
"Sacred dances should not be performed for commercial purposes. It's a deviation," he said.
Cok Ace is not the only one who has an uneasy feeling about the phenomenon. Made Bandem, a Balinese dancer and cultural observer, said he feels the same way. Made, who also acts as the chairman of the Balinese Cultural Board (Listibiya), said, "Protection of the sacred dances is badly needed. These dances are the source of all Balinese dances."
As a response, Bali's government, along with several concerned institutions, on Tuesday banned 127 sacred dances from being performed in any form for commercial purposes. The institutions are the Bali branch of the Indonesian Hindu Religious Council, the Bali Customary Village Council, Listibiya, the Bali Cultural Agency and the Indonesian Arts Institute (ISI) Denpasar.
Their joint statement read: "We prohibit all parties from demonstrating/showing/staging/performing all kinds of sacred Balinese dances beyond the sacred purposes of Hindu ceremonies."
Read also: UNESCO recognizes nine Balinese dances
It also stated that there were a number of sacred dances often performed for non-religious purposes, such as Rejang, Sanghyang, Baris Gede and Wayang Lemah. "The phenomenon is worrying and it is a concern for artists, cultural observers, indigenous leaders, religious leaders, stakeholders and all Balinese."
The statement listed 127 sacred dances, based on research done by ISI Denpasar, Listibiya and the Bali Cultural Agency. It said that the list could expand.
Made Bandem said that Listibiya classified three kinds of Balinese dances in 1997, namely Wali and Bebali as sacred dances and Balih Balihan as an entertainment dance. "Dances categorized as Balih Balihan may be performed for entertainment and tourism purposes," he said.
ISI Denpasar rector I Gede Arya Sugiartha also said that sacred dances performed for commercial purposes made him feel dismayed. "It is important to protect sacred dances from commercialization. They are sources of values that show the disparity of human and god. We want to keep the values alive," he said.
Bali Governor Wayan Koster, who acted as a witness of the joint decision, warmly welcomed the ban. Wayan said that commercialization of sacred dances could damage the culture inherited from the ancestors. "This protection is needed to strengthen our local culture," he emphasized.
Koster added that since the prohibition is the form of an agreement, not a regulation, no sanctions would be applied. "Living orderly doesn't mean applying sanctions; [we only need] a mutual understanding, since our concern is to protect Balinese sacred dances."
Cok Ace said that the ban would not stop Balinese dancers from improving their skill and creativity. He said that a Balinese dancer could perform both sacred and non-sacred dances accordingly. "There are rituals and prohibitions that should be obeyed when someone performs a sacred dance. That's what makes it different from other dances," he said. (wng)