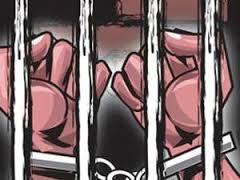 NEW DELHI: Blowing the lid off an organized espionage racket, Delhi Police crime branch has arrested a Border Security Force (BSF) head constable and a Jammu and Kashmir resident on charges of leaking sensitive information to Pakistani spy agency Inter-Services Intelligence (ISI).
Joint commissioner (crime) Ravindra Yadav told TOI that head constable Abdul Rasheed, who was posted with the intelligence wing of BSF in J&K, had provided specific information about deployment of security forces and IAF operations. The information was passed on to a senior ISI officer through email and messaging services like WhatsApp and Viber.
"The other accused is Kafaitullah Khan alias Master Raja, 44, from Rajouri district in J&K. He is a handler of Pakistani intelligence operatives and has contacts in different security agencies through whom he procures confidential information and supplies it to officials across the border," Yadav said. The two were arrested under the Officials Secrets Act.
Rasheed was one of the main sources of information for Kafaitullah, who is the handler of several agents in India, police said, adding that there may be more arrests in the case. Rasheed and Kafaitullah are also related to each other, the police said.
Talking to TOI, BSF director general D K Pathak tried to downplay the development. "Head constable Abdul Rasheed may not have had access to classified information at the Rajouri office. But he must have had information about troop movements and other details of the camps and border outposts," he said.
Even this limited information, sources said, was enough for the ISI as it could then push terrorists across the border from locations when BSF troops were not present.
The BSF said Delhi Police, after keeping watch on Rasheed and Kafaitullah, had informed the force a few days ago.
"Delhi Police had informed us about the spying activities of our officer a few days ago after which we interrogated him and carried out our own verification. He was handed over to the police for further investigation. Let's wait for the complete investigation on what all he may have passed on to Pakistani operatives," Pathak said.
Delhi Police's additional CP (crime) Alok Kumar said, "ACP K P S Malhotra had received inputs about anti-national activities sponsored by Pakistani intelligence operatives which had links with civilian handlers and security forces personnel. The information was developed and a few persons involved in the network were identified by this team."
Thereafter, surveillance was mounted over the members and evidence collected. On November 26, Kafaitullah boarded a train from Jammu for Bhopal.
A team led by DCP (crime) Bhisham Singh and ACP Malhotra laid a trap and the suspect was apprehended at a railway station. Crucial documents were recovered from him.
Kafaitullah disclosed that he was working as a library assistant at the higher secondary school in Manjakote. He had visited Pakistan in 2013.
"During his stay there, he came in contact with an ISI agent and agreed to provide secret information about defence forces in lieu of money. For this, he cultivated his sources in the Army and the BSF and started passing on the information to Pakistani operatives," DCP Bhisham Singh said.
Kafaitullah was taken to Rajouri to identify his accomplices and a thorough search of his house was conducted. Rasheed was arrested at his instance.
ACP Malhotra's team comprising Inspectors P C Yadav and SIs Neeraj, Ritesh, Gurmeet and Vijay among others are raiding several places in Delhi and J&K to nab other members of the ring, police said.
The arrested duo is being interrogated to ascertain the identity of their Pakistani associates. A team is camping in Jammu for further arrests.