During his Washington visit, President Barack Obama gifted Prime Minister Narendra Modi a rare book, The World's Congress: Religions at the World's Columbian Exposition- on the 1893 summit of world religions where Swami Vivekananda made a mark.
Revealing this on twitter, Modi said it was a gift he would cherish forever. The book is a 1200 page collection of the best papers and speeches at the gathering – including the Swami's speech, 'the Indian man who introduced Hinduism and yoga to the United States and spread a message of religious tolerance around the world', said a note accompanying the book. "This gift celebrates Swami Vivekananda's valuable contribution as a bridge between India and US and honors our two nations' shared traditions of pluralism and diversity'.
Modi tweeted pages which contained the Swami's paper, "Hinduism as a religion", and his picture.
President @BarackObama presented to me a very valuable gift that I will cherish forever.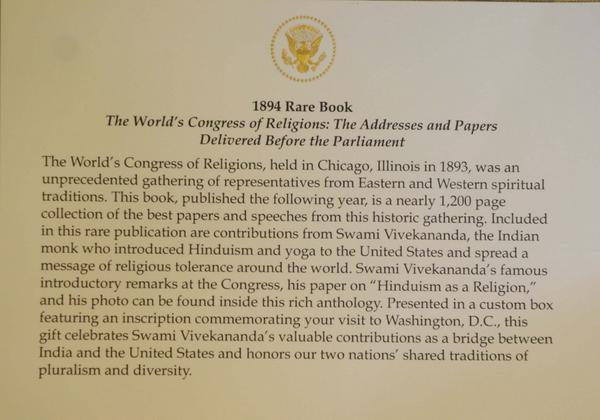 He gave me a rare book on the Parliament of World's Religions of 1893.