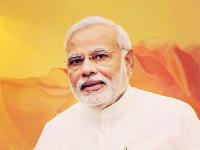 NEW DELHI: Prime Minister Narendra Modi's Madison Square speech in Sanskritised Hindi, which was punctuated with shlokas and talks of cleaning the Ganga, appears to have impressed the Sangh Parivar outfits, including the RSS and the VHP. People in the know said the RSS and VHP were active in making the non-official events during Modi's US visit a success.
Former RSS spokesperson Ram Madhav, who is now a BJP member responsible for coordinating between RSS, BJP and the government, is said to have made three trips to the US to do the groundwork for Modi's maiden visit to US.
The more than 18,000-strong American Indian crowd that gathered to hear Modi at Madison Square Garden, New York, is said to be the back-channel efforts of the Sangh Parivar outfits abroad. In turn, Modi did not disappoint the Sangh Parivar, as he presented his 'Swayamsewak' avatar. After Vajpayee, Modi is only the second PM to have addressed the UN General Assembly in Hindi.
Moreover, he chose to speak in Sanskritised Hindi and even referred to the Vedas to emphasise that India believes in Vasudev Kutumbakam( world as a global village). He was all praises for Yoga, describing it as a tool for achieving holistic health, and gave a call for an "International Yoga Day".
Modi said there was need to go "back to the basics". In his speech at the Council on Foreign Relations in New York, he made references to the Vedas and recited the Sanskrit shloka, "Sarve Bhavantu Sukhina…" Modi was most prolific during his Madison Square speech, which he began with good wishes for Navratra and went on to talk about "purification" of the Ganga.
His Navratra fast, too, got wide publicity with the media highlighting that he was only taking lukewarm water. The PM touched an emotional chord when he said NRIs want to take their parents for a holy dip in the river, adding and the task of cleaning up the river should be undertaken with seriousness. He ended his speech by asking the gathering to repeat after him "Bharat Mata ki Jai".
Even while appropriating Mahatma Gandhi—there were frequent references to the Father of the Nation and a visit to his memorial in Washington DC —Modi focused on his Hindu beliefs. He chose to gift a copy of "The Bhagvad Gita according to Gandhi" to US President Barack Obama. In September, he had presented the Gita to Emperor Akihito during his Japan visit.
Modi had then quipped that his secular friends would raise eyebrows over it. These gestures and speeches appear to have gladdened the RSS and the Hindutva votaries, who are pleased that the 'Swayamsewak' in Modi had emphasized on his roots during the foreign visit. Swami Vigyananand, a former IITian who heads the Foreign Cell of VHP, backed the prime minister.
"Modi is a swayamsewak and is used to giving a call for 'Bharat Mata ki Jai' and speaking in Hindi. We have all been shouting these slogans since we were children. As for gifting the Gita to Obama, what better gift can one give. There is no dam (power) in giving any material gift to Obamahe has everything," he told ET.
However, some said Modi and Vajpayee are not "convent educated" and hence are more comfortable speaking in Hindi. The RSS leaders see Modi's trip as "highly successful", which appropriately highlighted the Hindutva aspects along with achieving the official targets of the government.
Their efforts in making this a memorable visit have borne fruit, they said. Sociologist Shiv Vishwanathan, however, was dismissive of Modi's trip and said it had not achieved much, though he was more impressive that his predecessor Manmohan Singh.