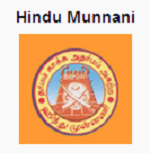 One more person was arrested for allegedly conspiring to kill two leaders of Hindu outfits in and around the district, police said today.
Twentyseven-year-old A Shahul Hamid alias Vaikari Sahul was picked up by the Special Intelligence Cell of the city police at his house in Thudiyalur near here in the early hours of yesterday, police said.
Hamid was suspected to have been involved in terror- related cases across Tamil Nadu, police said.
Police had last month arrested six persons in connection with the case.
The accused have allegedly conspired to murder Arjun Sampath, president of the Indu Makkal Katchi and Moogambikai Mani, a leader of Hindu Munnani "for working against the interests" of a particular community.
It was also suspected that the accused were part of a group involved in the murder of Hindu Munnani leader K P Suresh Kumar in Chennai on June 18.