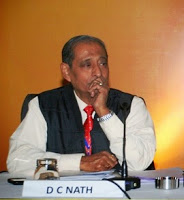 President of Patriots Forum, D.C. Nath was superannuated in January, 1995, as the Special Director, Intelligence Bureau, D.C. Nath (IPS-1960) was associated with the International Institute of Security and Safety Management (IISSM), headquartered in New Delhi, for over 14 years, first as the Executive President & CEO and then as the President & Director General, between February, 1997 and March, 2011. The author of a highly acclaimed book, Intelligence Imperatives for India, Mr. Nath earned high plaudits from all around for two of his very significant presentations on: "Revisiting the Future of India" (2005, London) and "Lessons from India for the War On Terrorism" (2007, USA). He is the only one in the field, combining the experiences of a police officer with specialization in intelligence and strategic analysis and an industrial security expert par excellence. More Bio on D. C. Nath…
OPINION>>>>
February 23, 2015
To
The Minister for Human Resource & Development,
Government of India,
New Delhi.
Subject: Need For A Structured Study Of Madrassas In India
Mananiya Smriti Iraniji,
We take the priviledge of forwarding a mail on the Madrassas in India (originally in Pakistan), sent to the Union Home Minister, for favour of considering action as thoughtful fit.
Mananiyaji, we have also to request you to ponder over the issue in your overall scheme for overhauling of the Indian educational system that, we believe, you have already ordered. We have been advised by many that you could kindly consider issuing suitable instructions to all schools in the country in order that boys and girls ought to have some practical knowledge about what been have all going on in these madrassas. All Indians must be made aware of the danger inherent in this situation.
Thanking you & with regards,
Yours sincerely,
D.C. Nath
(Former Spl. Director, IB)
(President, Patriots' Forum)
Source: Patriot Forum
Disclaimer: The opinions expressed within this article /news /published content are the personal opinions of the submitting author / organization. World Hindu News  is not responsible for the accuracy, completeness, suitability, or validity of any information on this article /news/published content. All information  received is provided on an as-is basis. The information, facts or opinions appearing in the article / news /published content do not reflect the views of World Hindu News and World Hindu News does not assume any responsibility or liability for the same.