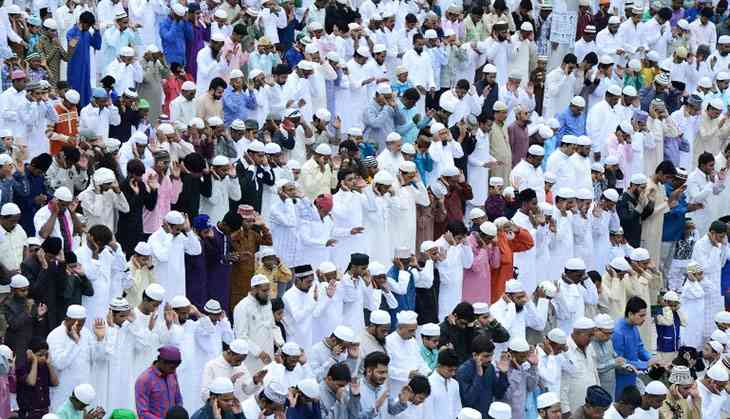 Ghar wapsi (reconversion) is back as an issue in Uttar Pradesh. Recently, over a dozen Muslims left Islam to embrace Hinduism in the Alapur area of Ambedkar Nagar, a district adjoining Faizabad.
Local Rashtriya Swayam Sewak Sangh (RSS) leader KC Srivastava was said to be instrumental in the conversion of the Muslims belonging to "two-three families".
When asked if the group was offered any inducement for the conversion, Srivastava said it was wrong to use the word 'conversion'. For Srivastava, these were people who were returning to a 'home' which they had left about 25 years ago.
"How would you describe it?" he countered.
The ghar wapsi programme was organised by the RSS and the Arya Samaj two days ago. All the 'converts' were made to perform a special puja for their "home coming" and there was, allegedly, no inducement nor any pressure on the families.
As there was no arrangement for performing the conversion puja either with Tanda Arya Samaj in Ambedkar Nagar or in Akbarpur, the group of 15-16 was brought to the Arya Samaj temple in Jamuniya Bagh, Faizabad.
A press release issued by the Jamuniya Bagh Arya Samaj quoted Surendra Kumar, a resident of Ambedkar Nagar who brought the group to Faizabad, as saying that he wanted the group to commit itself to making the country a Hindu Rashtra.
No one from the group spoke to journalists. Srivastava, who was in Lucknow on Wednesday, avoided all questions but blamed the media for indulging in yellow journalism. He also refused to share the contact numbers of anyone in the group.
The organisers of the ghar wapsi now want to demand police protection for the group and also arrange a meeting with some ministers.
THE POLITICS OF IT ALL
Politics of religious conversion, ghar wapsi, dominated the headlines in the run-up to the 2014 general elections and stayed prominent alongside the issue of 'love jihad'.
Vishwa Hindu Parishad's Praveen Togadia had reportedly defended ghar wapsi by saying, "Since the Supreme Court has ruled that Hinduism is a way of life, there is nothing unconstitutional about ghar wapsi."
At a Dharm Jagran Samiti (DJS) event in Agra in December 2014, a functionary of the outfit said that Muslims and Christians will have to convert to Hinduism if they wanted to stay in India.
Rajeshwar Singh, the state head of the DJS, which was spearheading the ghar wapsi campaign in 2014, had said at that time – "Our target is to make India a Hindu Rashtra by 2021 where Muslims and Christians would have no right to stay."
"So they would either be converted to Hinduism or be forced to run away from here," Singh had said.
The remarks were made after a DJS activist Nand Kishore Valmiki was arrested for his role in the forceful conversion of 100 Muslims in Agra.
In 2015 VHP's national general secretary Ashok Tiwari had said in Etah, "Ghar wapsi is not a bad thing at all. It will continue till we bring back all those who left their homes."
Despite the pressure that the VHP, RSS, DJS and Bajrang Dal were building upon to divide the society along communal lines, they were kept on a leash by the Samajwadi Party government.
However, now, with the Bharatiya Janata Party forming the government with an overwhelming majority of 325 seats, these fringe groups are likely to revive their campaign with new vigour.
Adityanath Yogi, who himself was an advocate of ghar wapsi and love jihad before being appointed chief minister, will now have to make his stand clear.
Edited by Jhinuk Sen