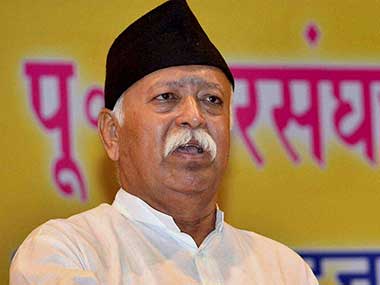 INDORE: RSS Chief Mohan Bhagwat will address a day-long programme 'Hindu Sangam' to be held on the banks of Narmada river at Maheshwar in Madhya Pradesh's Khargone district.
Organised with an aim to strengthen and establish harmony among Hindus, scores of villagers from the region are expected to take part in the 'Sangam' to be held on February 10, Malwa region coordinator, Maa Narmada Hindu Sangam Aayojan Samiti, Amit Jain told reporters here today.
Earlier, 'Hindu Sangams' were held in Dang (Gujarat) Jhabua and Mandla (both in Madhya Pradesh).
Jain said the aim of the 'Sangam' is to bring together members of Hindu society and establish social harmony and ensure development of villages by conserving river, trees, and to make them self-sufficient.
For the purpose, preparations are going on for the last six months and urns carrying Narmada water have been placed in 6,443 villages in Malwa region.