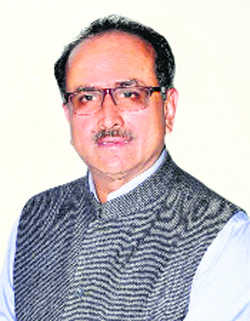 Career highlights
Date of birth: January 22, 1956

PhD in Modern History from University of Jammu

Started his political career as a pracharak of the Akhil Bharatiya Vidyarthi Parishad, the student wing of the Sangh Parivar

Appointed as the state general secretary of the BJP in 1998

Defeated sitting Billawar MLA and Minister of State in the Omar Abdullah government Manohar Lal Sharma by 17,975 votes in the recent Assembly elections
From a worker at the grass-roots level to the Deputy Chief Minister, life has come full circle for Dr Nirmal Kumar Singh.
After taking oath of office and secrecy today, Dr Nirmal Singh became the first BJP leader to be a part of any government in Jammu and Kashmir.
Born on January 22, 1956, Dr Singh is built in a strong RSS mould and started his political career as a pracharak of the Akhil Bharatiya Vidyarthi Parishad (ABVP), the student wing of the Sangh Parivar
A doctorate in the Modern History from the University of Jammu, Dr Singh as a student leader was a part of various agitations launched by the ABVP before he jumped into the active politics of the state.
After serving the ABVP as a pracharak in different parts of the country, Dr Singh returned to Jammu and joined the University of Jammu as a lecturer in the Post Graduate Department of History.
Besides teaching at the department, he also took the mantle of the ABVP state president and following a directive from the RSS joined the BJP. He was appointed the state general secretary of the party in 1998.
Following the sudden death of veteran leader Vaid Vaishno Dutt, the BJP fielded Dr Singh for the by-election to the Jammu-Poonch parliamentary in 2002. However, the 58-year-old failed to deliver due to internal strife in the party.
From 2002 to 2014, Dr Singh unsuccessfully contested three Lok Sabha and one Assembly election, attracting the tag of an "unlucky mascot".
After losing to Congress' Choudhary Lal Singh, who joined the BJP ahead of the Assembly polls last year, Dr Singh put his best efforts to make the Udhampur-Doda Lok Sabha seat his own. However, he was denied the ticket by the BJP for the 2014 parliamentary elections.
The party high command though assured him that his services would be utilised in the state politics and nominated him for the Billawar Assembly seat. And this time he did not disappoint.
Dr Singh beat sitting Billawar MLA and Minister of State in the Omar Abdullah government Manohar Lal Sharma by 17,975 votes.