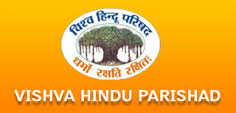 NEW DELHI: The fringe brigade returned to Delhi on Sunday with fresh provocations, asking for restoration of "Hindu pride" even as the Shankaracharya of Badrinath claimed Shirdi Sai Baba was a Brahmin who later became a naga sadhu. 
At the Virat Hindu Sammelan organised by VHP on Sunday, RSS leader Suresh Soni said the only way to restore world peace was to go back to 'Hindu values' and that Hindus of the country need to be united in fighting 'destructive forces'.  VHP leader Pravin Togadia who was recently barred from entering communally-sensitive places in Odisha, said Hindus must celebrate only when the Ram Mandir was built in Ayodhya. "Vatican, Mecca exist only because of conversions. No Muslims or Christian existed 5000 years ago. Only Hindus ruled everywhere then. We must get back to our lost dignity." 
He also took digs at Andhra Pradesh Chief Minister Chandrababu Naidu and Telangana CM K Chandrasekhara Rao for providing subsidies to Muslims and proposing reservations for them. BJP leader Subramanian Swamy said if the central government did not sanction the Ram temple in Ayodhya," he will get it done through the court like he did in the case of Ram Setu." "Muslims and Christians can live in this county but they should not forget that the mooldhara is 'Hindu' or that their ancestors were Hindus too," he added. Places such as Pakistan, Kashmir and Kerala had 'turbulent' democracies because they have a large Muslim population, In the same event, Shankaracharya Vasudevanand Saraswati of Badrinath raked up an old controversy on the origins and lineage of Shirdi Sai Baba and said he had ample evidence to prove that baba was a naga sadhu, a Brahmin from UP, and staunch disciple of Juna Akhada's Saraswati Maharaj. A few days ago, Shankaracharya Swaroopananda had said Sai Baba was a Muslim fakir and should not be considered among Hindu deities. That the Shirdi Sai Baba is a Muslim is being floated to hijack him from the Hindu community and take his disciples away from the Hindu Samaj, Vasudevanand said.