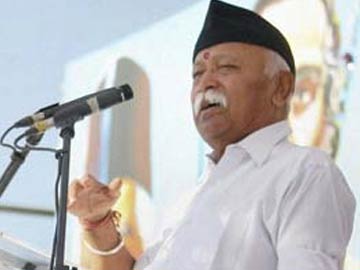 Nagpur: The BJP's ideological mentor, the Rashtriya Swayamsevak Sangh or the RSS, today reiterated that the organisation does not act like a 'remote control' to the ruling party. Addressing cadres for the first time since the Lok Sabha elections, RSS chief Mohan Bhagwat in Nagpur said, "The RSS is not a remote control, we just awaken people."
Mr Bhagwat, 64, without directly naming the BJP or Prime Minister Narendra Modi said that the "change people wanted has come and the change is good."
"People of India voted this time for who they thought deserved. People thanked us but all we said was vote for those who deserve… It has been only 15 days. We have to be hopeful that things will change," Mr Bhagwat said at the convocation function for over 700 cadres who completed a 25 day course.
"Swayamsevaks are always there to help the country… Leaders can't make all changes, people have to also change," the RSS chief added. BJP's former general secretary Sanjay Joshi, spiritual guru Sri Sri Ravishankar, who was the chief guest, and the RSS's Ram Madhav were also present at the convocation ceremony of the organisation.
The RSS, it is believed, plays an important role in the BJP's decision-making and also mediates during crises. Ahead of government formation, a long list of BJP leaders had visited the RSS office in Delhi, although the Sangh insists that it did not interfere in the cabinet process.
Prime Minister Narendra Modi is the RSS' most famous alumnus. Mr Modi, 63, was an active campaigner in the RSS into his 30s and RSS workers played a significant grassroots role in campaigning for him. However, he chose to make issues like the economy and development the main focus of his campaign rather than highlighting a "Hindutva" or Hindu nationalist agenda.