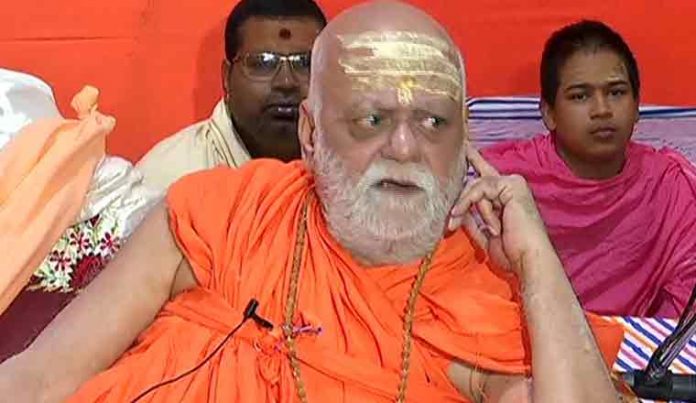 Puri: In the wake of Supreme Court's proposal to hand over the management of the Jagannath temple to the Shankaracharya of the Gobardhan Peeth in its recent hearing, the latter is of the view that from the spiritual and religious perspective, the management of the temple should remain in his charge.
"There will be no disparity if the management adheres to the ethics and rituals specified under the record of rights and Shree Jagannath Temple Act," Shankaracharya of Gobardhan Peeth, Swamy Nischalalanda Saraswati, told the media here on Wednesday.
Taking a dig at the state government, the seer said that the senior bureaucrats, appointed as the chief administrators of the Shri Jagannath Temple Administration (SJTA) have tarnished the rich and pristine tradition of the temple with mindless governance. "No one should forget that the Adi Shankaracharya had reinstalled the idol of Lord Jagannath in the Srimandir 2503 years ago," he pointed out.
Notably, the Supreme Court while hearing a PIL on mismanagement and exploitation of devotees in Jagannath temple in Puri on April 8 had questioned the role of the government authorities in taking over the administration of religious places. The apex court had observed that the task should be entrusted to devotees as it expressed concern over the failure of various state governments in managing temple affairs.
Appearing on behalf of the Puri Shankaracharya, advocate Suchit Mohanty had told the bench that the spiritual guru had filed an application in the case to assist the court in deciding the issue.
Mohanty had also apprised the apex court of the interference of the management in the religious affairs of the temple resulting in serious disturbances including stampede during the darshan of the deities.
Attorney general K K Venugopal agreed with the view of the court that there should be no state interference in the management of temples. He said the issue has to be examined by the court on how can a government take over the control of temples in a secular country.
The bench had later asked Mohanty whether the Shankaracharya would be willing to take over the management as he had immense power and influence over the devotees and his intervention could ensure smooth administration of the temple.
Senior lawyer Ranjit Kumar, assisting the apex court as amicus curiae, told the bench that there are two legislations pertaining to Jagannath temple administration and the court had to examine the laws before passing the order. He had also said that the mismanagement in the temple was due to the non-implementation of laws.
Source: http://www.odishabytes.com/puri-seer-keen-on-taking-over-jagannath-temple-management/