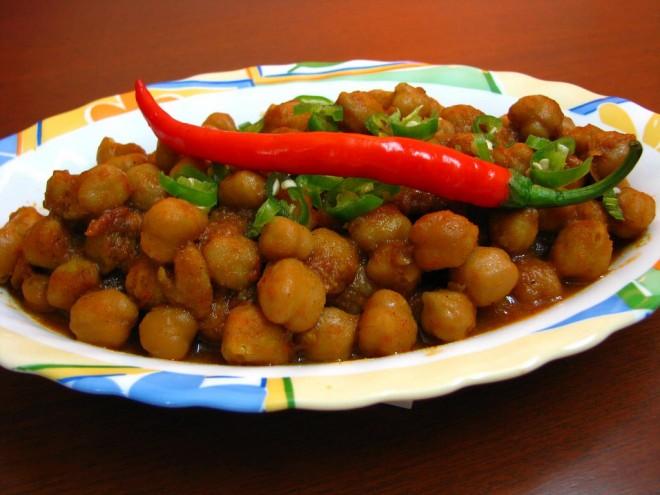 Shravan is an auspicious month for Hindus and is considered to be the most sacred of all. The auspicious month generally falls during July or August.
 The Shravan month and Adhika Bhadrapada month in North Indian calendars coincides with Karkidaka Masam in Malayalam calendar, Aadi month in Tamil calendar, Shravana masam in Telugu, Kannada, Marathi and Gujarati calendars and with Bengali Shraban month.
 Hindus during this holy month observe fast and abstain from eating non vegetarian food.
 So here is the list of top 10 vegetarian dishes that can be made during the holy month:
 1. Chana Masala
This spicy-tangy dish is also known as Chole Masala. This aromatic curry is made with chick-peas and fenugreek leaves and asafoetida are added to it, which gives it a delectable aroma. 
2. Palak Kofta
This healthy dish is a combination of potatoes, paneer, cashews, salt and garam masala that are turned into dumplings and fried. After that it is mixed along with spinach paste, making it a tasty dish.
3. Paneer Butter Masala
This recipe hails from North India. Paneer cubes that are cooked in spicy-rich tomato gravy are a sure fire way of tickling the taste buds.
4. Navratan Korma
This is an all time favourite dish among vegetarians and is cooked in creamy gravy of tomatoes and onions, along with cashew nuts and almonds. 
5. Kurkuri Bhindi
This mouth-watering crisp dish offers a twist to the lady finger. It is mixed with herbs and spices and is fried till they are crispy. This crunchy-tasty snack can be eaten with chapattis or dal and rice.
6. Aloo Gobi Masala
This dish is a mixture of potatoes and cauliflower blended with Indian spices. This delicious dish can make your taste buds crave for more, as it goes with all kinds of main dishes. 
7. Dahi Paneer
Soft paneer is cooked in tasty thick curd gravy. For all those who don't like spicy dish can try this option. 
8. Kanchkolar Kofta
This traditional Bengali recipe includes raw bananas that are boiled and mashed into balls, that are then dipped in a creamy curry made of garlic and onions.
9. Paneer Tikka Masala
This is among the most famous paneer preparations. The soft paneer is cooked in creamy tomato gravy. 
10. Malai Makai Palak
One can find the goodness of fresh spinach and corn in this mouth watering dish. This ultimate combination will be blended with malai or cream to make one fall for the dish.