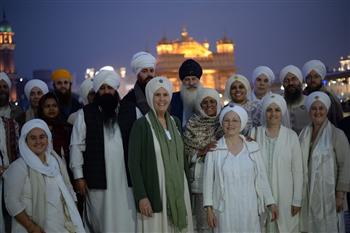 Punjab News Express
AMRITSAR : Sikh Devotees from all over US and Canada led by the America based to India by Sikh Dharma International culminates on reaching at Golden Temple here leaving everyone enriched and content.
In a statement issued here today by Bibi Inderjit Kaur who is also Chief Religious Authority, Sikh Dharma International said that Sikh devotees from all over US and Canada were in India to celebrate 350th birth anniversary of Guru Gobind Singh the tenth Sikh master at Gurudwara Sri Patna Sahib. Devotees had also gathered and spread the teachings of Gurus at Miri Piri Academy in Amritsar.
After successful completion religious journey to Indian as well as in Golden Temple Amritsar, Sikh Dharma International has shared its sincere gratitude towards the government of India for making the spiritual journey memorable for the devotees from all over the world.
Sharing her views Kaur said," It is a blessing for the international members of Sikh Dharma International to come to India and experience the holy places where Sikh Gurus have spread their teachings. This yatra gave us divine peace and helped us strengthen our resolve to line the teachings of Guru Gobind Singh in our daily lives. The 350th birth anniversary of Guru Gobind Singh focused the holy Raj Khalsa Yatra, enabled us to do seva at all the holy places which have memories of Guru Gobinn Singh."
"SDI management team has now decided to commence Yatra every year going forward from Sri Harmandir Sahib (Golden Temple)," Bibi Inderjit Kaur further added.
However, SDI In the early seventies, Yogi Harbhajan Singh began to teach in the United States. Through his inspiration, insight and example many Westerners began adopting the Sikh way of life, attracted by the spiritual practices of Sikh Dharma and its egalitarian teachings that respect all religions. Sikhs do not convert people.
Since 1973,
Sikh Dharma International (SDI) has been a recognized as religious organization in the United States and an effective vehicle for spreading the teachings of the Sikh Gurus in every direction of the globe.The headquarters for Sikh Dharma International is located in the Espanola Valley in northern New Mexico, at Guru Ram Das Ashram.