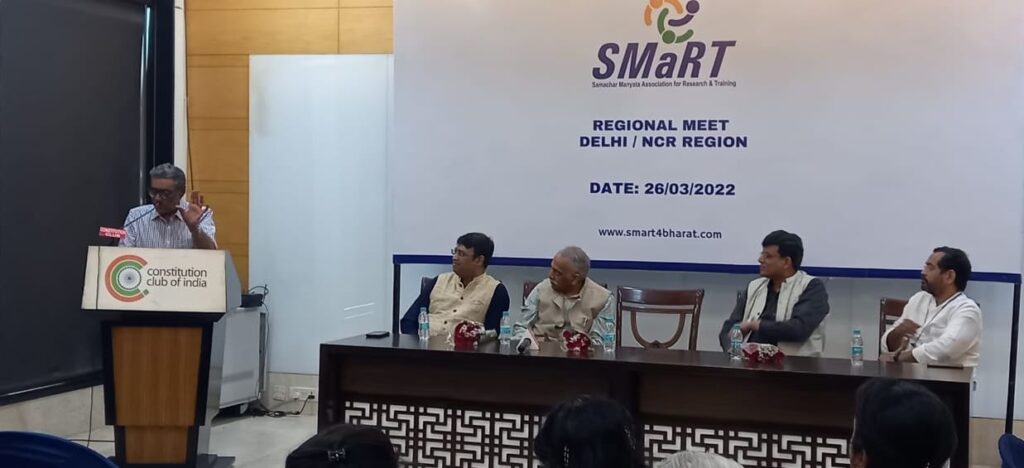 New Delhi, WHN
Various nationalist media organizations editors and owners met at the Constitutional Club of India, New Delhi to empower the collective media strength of nationalist and Dharmic media outlets, majorly involving big players of digital social media – YouTubers, Bloggers, Authors, Editors, Websites, etc. other social media and few print media also. A SWOT – (Strength – Weakness- Opportunities -Threats) analysis of nationalist media was done during this meeting with a final goal to work in cohesion the safeguard India's interest and protect Dharma from the rampant attack of Communist, Jihadi, and Pseudo Secular media houses, which are majorly Anti-Hindu and Anti India in their broadcasting content. The program was held under the umbrella of SMaRT – Samachar Manyata Association for Research and Training, a confederation of nationalistic media organizations in order to promote and advocate for events that deserve national importance. SMaRT is a non-profit organization formed out of sheer compassion and determination for the benefit of our country.  It has 60+ media as our members with cumulative Web-traffic and social media reach of over 85 million +, its website smart4bharat.com . It helps nationalist media organizations, editors by conducting events, workshops, seminars, media skill building sessions, providing grant for research and publications, studio, legal help and advisory, internetwork with fellow media associates, amplification of news in multiple news portals etc.
The program had renowned speakers like Dr. Swapan Das Gupta (a well-known journalist and political commentator and a member of BJP National Executive and Rajya Sabha member since 2016) said that in 1980' -1990's, a colossal amount of money and contacts was needed to start a media outlet, which is not a case nowadays, now day's big media houses are feeling insecure from new-age social media, which requires low investment, has high visibility and considerable impact. Be bold, have courage, and march forward is the Guru mantra he gave to all media outlets attendees. Answering questions on continuing Hindu Human Rights violation in West Bengal, Dr. Swapan Das said that Bengali Hindus have to rise themselves to protect their women, assets, and honor from Trinamool Congress party workers. On increasing assault on media persons who report atrocities on Hindus, he supported a thought that news reporting can be done from West Bengal, however, news publishing and circulation can be done from outside West Bengal to protect editors from physical and legal persecution.
Lt. Gen. V.K. Khandare (currently an advisor to ministry of defence and has served as Director-General Defence Intelligence Agency, currently a distinguished fellow at USI New Delhi and Emeritus Research Faculty at Rashtriya Raksha University, Gandhinagar), talked about the information warfare that military agencies are dealing with. Sponsored and implemented by identified adversaries like China and Pakistan, this information warfare objective is to demoralize the Army and allied wings by designing – building, and broadcasting negative digital content which disparages the armed forces, the content has many forms designed professionally for Indian military soldiers, officers. He cited the recent Afghanistan case where persistent information warfare launched by the Taliban finally led to the demoralizing of the Afghanistan Army and the Taliban was successful in overthrowing the national government without bloodshed or fight. He also condemned the act of a few Indian media journalists who went to China during the Dokhlam standoff and how they used to publish unedited pro-Chinese news from China in Indian media – TV, Digital and print. Answering a question on increasing Anti Army content in social media, OTT platforms, he supported the opinion of the group that the Indian Govt. should make Army Defamation Laws in view of increasing Anti Army digital content in the Indian web-space.
Mr. Ram Bahadur Rai (an eminent journalist, former news editor of Hindi daily Jansatta author of many books, and current director of Indira Gandhi National Centre for the Arts) spoke about his decades of experiences in media. He mentioned how the Press Council of India has become a toothless tiger and the need of Media Council of India (MCI) for TV, Print and Digital media, in the current scenario where many mainstream media journalists and media houses lack a basic code of ethics, morals required for accurate, truthful and unbiased reporting as there are no punitive laws for appropriate controls.
However, on this, majority of media associates present disagreed, Madhu Purnima Kishwar, (an Indian academic and a commentator), spoke on misuse of such authority by non-nationalist, anti-Hindu Govt. in power. Rahul C. Sharma, Editor of World Hindu News, said that it was majorly pro –Modiji, pro-India, and Pro Hindu social media outlets which led to the formation of BJP government in the center in 2014 and there is a risk that a controlling authority will only weaken nationalist media voices who are already facing backslash by Twitter, YouTube, Facebook, and other tech firms.
Discussions on preventing and countering Copyright, Defamation, and other Civil and Criminal notices and cases occurred, on this N Muthuraman, Director of Swaraj said it's a best practice to delete the digital link(URL), it's content, and pics from the website to safeguard oneself from a defamation notice. The media lawyer present also provided important tips to media associates. Ravi Ranjan Singh, a guest, informed the audience on Humane-Nomics to replace Hahal-o- Nomics. On Wikipedia's biased content, SMaRT senior mgmt. appealed to media associates to bring that to notice, which will be countered legally with Wikipedia. Justice4 Bharat representative updated the audience on how they are open to helping Hindus legally who are facing legal persecution for pro-India, pro-Dharma acts.
SMaRT gave all attendees sweets and books on Hindu Dharma written by legendary Indian historian, religious and political activists, and writers Sita Ram Goel and Ram Swarup – How I Became A Hindu, Defence of Hindu Society, Inner Yoga (Anirvan), Science in Samskrit, Catholic Ashrams, Understanding ISLAM through HADis, etc.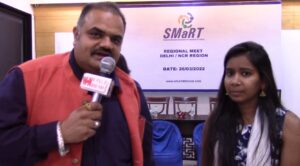 World Hindu News, Editor-in-Chief, Rahul interviewed SMaRT program manager Ms. Meena and many other participants during this half day assembly. Video interviews to be published soon.