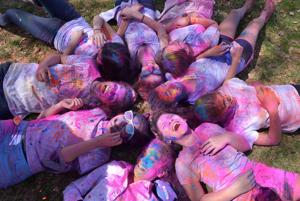 A group of girls at the Holi Festival show their smiles and colored powder just before the games and dancing.
What's the story?

Holi has been celebrated for more than 2,000 years. Its roots, Madhuri Reddy explains, lie in the Hindu legend of Hiranyakashyap, a demon king who insisted his people worship him as a god. His son, Prahlad, would not worship him, however, so Hiranyakashyap asked his sister, an evil witch named Holika, to burn him in a fire.

However, Prahlad invoked the name of Lord Naarayana — or Vishnu, the supreme diety of the Hindu faith — who saved him from death and burned Holika instead.

The people celebrated Holika's death by spreading her ashes on their faces, Reddy says. Over years, the tradition evolved into colorful flower petals and, today, colorful powder or chalk.

"It signifies happiness," she says. "Just hug each other. It's a fun festival. The weather is good, and everyone is gathering."

For more information, visit http://saal.us.
Splashes of brightly colored chalk concealed the features of some 250 people attending the Holi, or Festival of Colors, at Neffsville Park on Sunday.
But it was easy to see — despite smeared layers of yellow, blue and magenta dust — that most everyone was smiling.
"Everybody's life needs some color," says Madhuri Reddy, one of the organizers of the festival. "We celebrate right after winter ends. It's the Festival of Color, the festival of love. It celebrates the triumph of good over evil. And it's when the flowers come out."
Holi is celebrated by different names in various nations in South Asia, Reddy adds. The event here is organized by the South Asian Association of Lancaster and includes dancing, tug-of-war competitions and games.
"It symbolizes the victory of good over evil," says Dipal Shah, one of the powder-covered celebrants Sunday. "Who wouldn't want to celebrate?"
It has the added benefit of erasing the cultural variations among people, adds Rita Rathod, who serves on the SAAL executive committee with Reddy.
"When the colors are all over you," she says, "you cannot see the differences."
It doesn't really matter if you're white, brown or yellow, Rathod says, when you're covered in orange, blue and green.
Besides, Reddy says, "our next generation will still know our culture. We may be born and brought up in this country, but we are not losing our roots."
That's why Aileen John was there.
"My parents are from India. We hear stories about Holi all the time," says John, who attended Sunday's festival with her brightly colored children — Isabella, 10, Maria, 8, and Madison, 8 months — and two multi-hued dogs, Snowflake and Lily.
"When I heard they were doing it in Lancaster, I had to come. I want my girls to experience the culture," she says. "It's fantastic. We're having a really good time."
They first attended Holi in 2014, John says, and "the girls have been looking forward to it all year. They even picked out white clothes, so the colors would show better."
She looked at her dust-covered children and dogs and laughed. "When we get home, we're headed straight for the hose," she says.
Not everyone who attended is Hindu, or even South Asian. Many said they were there to experience a different culture — and have fun.
"I've eaten a lot of Indian food, but I don't know a lot about the culture," says Laura Bloom. "I'm really interesed in world cultures, so this is great."
Coated in colors, predominantly blue, Bloom was all smiles.
"I feel really good," she says.
Loni Goldstein says Holi is a hands-on way of meeting people.
"It's kind of interesting to meet people on a tactile level — touching them rather than using our voices," she says. "You meet people intimately, very quickly."
Marie Marchand, who recently moved to the Lancaster area from Quebec, says she came because of a co-worker from India. She brought her son, Akillea, 12, and Melina, 10.
"It's beautiful," she says. "And the story behind it is beautiful. It's about forgetting our differences, celebrating spring with color and having fun."
Another organizer, Kamlesh Rathod, says this is the fourth year for Holi in Lancaster.
"It's getting bigger and bigger," he says. "Like a snowball."