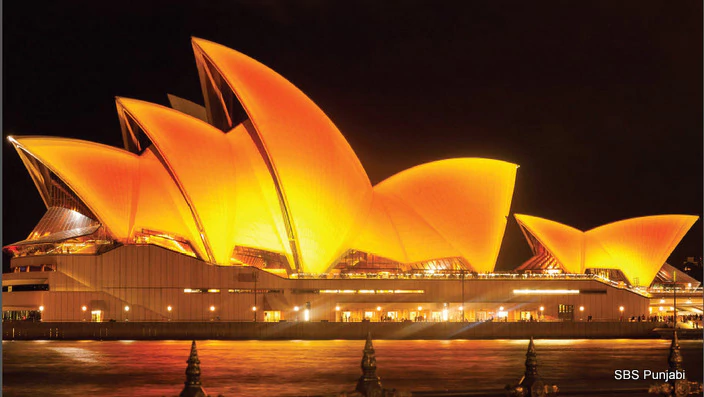 It's the fourth year in a row the Opera House has been lit up in a golden colour to mark the most widely celebrated Hindu festival, Diwali.
The festival has significance to Hindus, Sikhs, Buddhists and Jains, and is celebrated globally by Indian and South Asian communities.
It commemorates the triumph of light over darkness, and good overcoming evil.
Communities light ceremonial lamps, which symbolise the lifting of spiritual darkness to mark a new beginning.
During Diwali, people pray to Goddess of Wealth Lakshmi for health, prosperity and good fortune.
People also decorate their houses with lights and celebrate the New Year.
Multicultural NSW Advisory Board Chairperson and Indian community leader Dr Hari Harinath said the lighting of the Opera House sails sent a strong message to the world.
"It is very enormous. We know Indians are celebrating Diwali in Sydney near the Opera House and under the Harbour Bridge," Dr Harinath said.
"It shows the enormity of the task which the government of New South Wales is doing to maintain NSW as the best multicultural state, not only in Australia but all over the world.
"We will be ushering the world into Diwali from here."
A community reception was held at the Museum of Contemporary Art to celebrate the occasion.
NSW Premier Gladys Berejiklian formally opened the event and said by lighting the sails of the Sydney Opera House, it brings millions of people in Australia and around the world together.
"The lighting of the Opera House signifies the ancient tradition of lighting ceremonial lamps at this time, marking the eternal triumph of light over darkness," Ms Berejiklian said.
"More and more, Diwali is marked by all communities across New South Wales and is one of the most celebrated and anticipated events in our multicultural calendar."
Source: http://www.sbs.com.au/news/article/2017/10/17/sydney-opera-houses-iconic-sails-turn-gold-celebrate-diwali