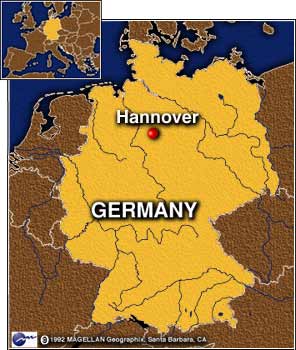 HANOVER, BADENSTEDT, June 7, 2014 (Haz): The largest Hindu Temple In Northern Germany is in a warehouse in Badenstedt. Now the community has a full-time priest. The 40-year-old Indian has only been in Hanover since February of this year. The Tamil Hindu Cultural Society has brought him for full-time care of the Gods and the worship in the temple in Badenstedt. 
The priest, Sivasri Saravana Sivachchariyar, comes from the South Indian state of Tamil Nadu. On this Friday evening, he holds the ceremony, which is dedicated to the Goddess Sri Muthumariamman.
From the outside, one would never guess what is going on inside the building. For the Hindu temple is located in the commercial area of Badenstedt. To the left and right of it are warehouses and the temple seems hardly different from the neighboring buildings. Five years ago, the Hindu community has established the one-floor, white-painted hall – -it is now considered the largest Hindu temple in northern Germany. "Here, the temple does not interfere with local residents, we've located it here to avoid conflict," says our Hindu hostess, Rajiny Kumaraiah. The US$410,000 cost of the temple is being financed entirely by donations from supporters and community members.