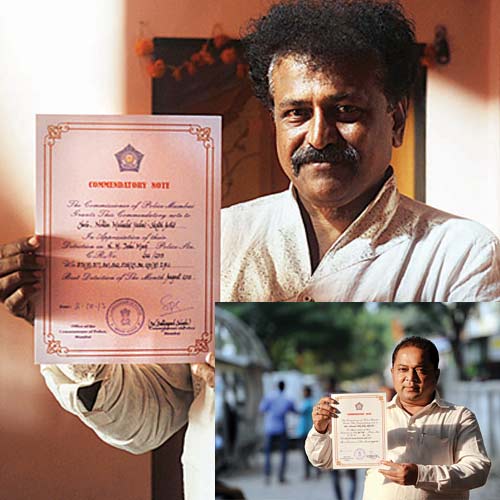 Mumbai police commissioner Dr Satyapal Singh on Wednesday felicitated two sketch artists, Nitin Yadav and Siddiq Shaik, by giving them certificates for their work that helped the police nab five men involved in the gangrape of a photojournalist in Shakti Mills compound, Lower Parel, on August 22.
Nitin Yadav, 48, who works as a drawing teacher with BMC's Chembur Education Society's primary school, said, "My job gives me immense pleasure and a sense of pride. While drawing the sketch of a suspected criminal, I try to understand the psychology of the victim and accordingly draw. This is one of the main reasons why my sketch matches the description given by the victims."
Recalling the Shakti Mills gang-rape case, Yadav said that the NM Joshi police called him around 3am on August 23 to prepare the accused's sketches. He prepared three sketches within two hours as per the descriptions given by the survivor's male colleague, who  had accompanied her to Shakti Mills. Later, the police took the sketches to Shakti Mills and Dhobi Ghat area of Mahalaxmi where the locals identified one of the accused to be Chand.
Yadav claimed that the police have solved 15 cases with the help of his sketches this year. Last week, he prepared the sketch of a suspect murderer who had thrown a woman's torso in the Charai Lake, Chembur. He also prepared the sketch of a murderer who had raped and killed a woman at Deonar last month.
A resident of Sewree, Saddiq Sheikh, who is engaged in drawing sketch and textile designing for more than two decades now, said, "I prepared the sketches of the remaining two Shakti Mills gang-rape accused with 90 per cent accuracy. This is the second time this year, I have been felicitated by the police commissioner. Earlier, I was felicitated for my sketch that helped the RAK Marg police solve an attempt to commit a robbery of gold ornaments worth Rs1.5 crore from a courier company at Sewree.