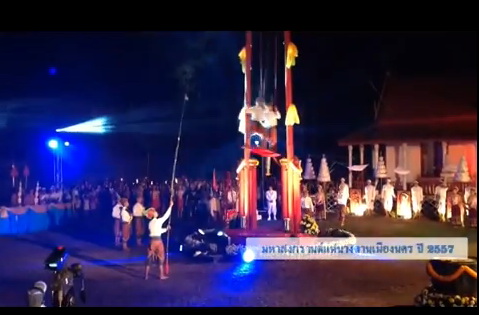 Nakhon Si Thammarat, 15 April 2014 (NNT) —Thousands of Thai and foreign tourists have participated in the "Nang Dan" Parade during the Songkran Festival in southern Nakhon Si Thammarat province.
The 'Nang Dan' Parade is influenced by Hindu religious rituals, which are a part of the Hindu Swinging Ceremony or Tri Yampawai.
The intention of the ceremony is to engage three of the Hindu subordinate gods to greet the Shiva (Phra Isuan) when he pays a visit to the Earth in the second month of every year, in order to bless the town. The "Nang Dan" (Dan or Kradan means a plank) is made from three planks, the first one crafted as the Sun and the Moon, the second as the Vasudhara (Phra Mae Thorani), and the last one as the Ganga (Phra Mae Kongka). The parade is designed to welcome the Shiva.
Chaowas Sanepong, Mayor of Nakhon City Municipality, presided over the Shiva worshiping ceremony at the PraSayom Base (the oldest Hindu construction that remains in the city).
Meanwhile, tourists today are packed in Wat Pra Mahatat Woramahawihan to pray for luck and good fortune during the Thai New Year celebration. The temple is in the process of seeking UNESCO World Heritage status.