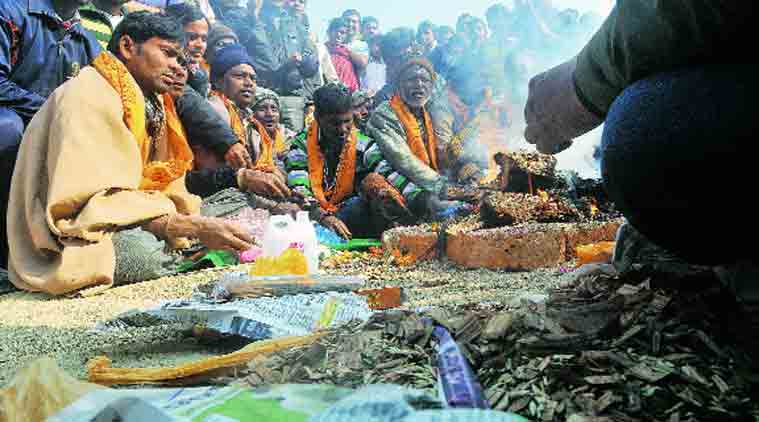 VHP members perform havan near Atiya.
Written by 

Shyamlal Yadav

 | New Delhi | Posted: January 7, 2015 12:24 am | Updated: January 7, 2015 8:47 am
Vinay Katiyar, founder president of the Bajrang Dal and BJP Rajya Sabha member from UP, has criticised the RSS-affiliated Dharma Jagran Samanway Samiti (DJSS) for rushing into a re-conversion programme that had benefited no one, and only created disharmony and bad blood.
'Ghar wapsi' was a difficult project, Katiyar said, and advised the DJSS to "work more and talk less". RSS pracharak and DJSS convener  Rajeshwar Singh, who had spearheaded the Agra 'ghar wapsi' that triggered massive criticism of the government and stalled Parliament's winter session, has recently gone "on leave".
"Nobody is going to be benefited from the controversy. Nothing positive is going to emerge from the propaganda," Katiyar told The Indian Express.
Explaining the importance of doing "homework" for the project, he said, "As a pracharak for Hindu Jagran Manch, I had approached some Muslim families in Unnao (UP) in the early eighties. They said they were ready to re-convert to Hinduism, but who would marry their children? Finally they did not come to our fold. For any Muslim who wants to re-convert, an assurance that marriage would not become a problem is the most important."
Before founding the Bajrang Dal as a front of the Vishwa Hindu Parishad (VHP) in the early eighties, Katiyar had worked for the HJM, the organisation that led the Sangh's re-conversion mission before the DJSS. Katiyar, who was one of the more aggressive faces of the Ram Janmabhoomi agitation, subsequently headed the BJP's UP unit and represented Faizabad in the Lok Sabha for three terms.
"Iss se sirf katuta paida hui hai. Kisi ka koi fayda nahin hua hai (This [ghar wapsi] has only created bitterness. No one has gained from it). It has only hampered work," Katiyar said. "Ghar wapsi", he added, "can be successfully carried out only if we are able to persuade Hindus to marry the girls and boys of the people who re-convert".
Hindus, Katiyar said, almost never accept those who 'return' with an open mind and heart. "No matter which caste they come back to, nobody accepts their children as a bride or groom. Sometimes people are ready to accept their daughters, but they will still not marry their own daughters to re-converts. There have been cases where families that re-converted went back to being Muslim again only because of this problem of marriage."
The DJSS's efforts are likely to be largely futile, Katiyar said. "They have neither the strength nor the preparedness. Unless Hindus are ready to change their mindset, no ghar wapsi is possible from Muslims to Hindus." According to him, getting families 'back' from Christianity was easier because the problem of acceptability was not that acute.