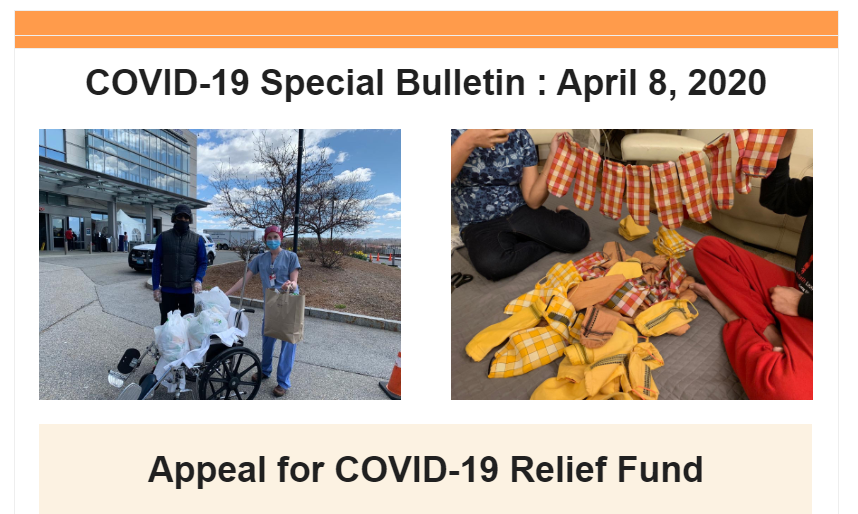 COVID-19 Special Bulletin : April 8, 2020
Timely help needed for victims
Namaste and Dhanyavad for your contribution 
VHPA Seva in America Efforts so far: 

– Donated $5000 to NY, IL, MI food banks
– Helped 200+ stranded Indian Students find Hotel accommodation @AHOA
– Distributed 300+ homemade masks: NY, OH, PA
– Distributed meals to healthcare workers at hospitals
– Partnered with SEWA International 
– Organized Collective prayers (OmTogether, AUMAcrossAmerica) with Global Prayer group – participation by over 100 organizations

VHP of America will send the donations to the organizations working with the community members affected.

Please contribute generously. Donations are tax deductible.

Donate on Facebook: @VHPAmerica.org
Donate on the Web: www.vhp-america.org/donation/
Donate By check:  Payable to VHP of America and mail it to: 54 Scheurman Ter Warren, NJ 07059

For further inquiries:
Email: Office@vhp-america.org 
Visit www.vhp-america.org
Thank you.

Vice President, SevaVHP of America Inc. is a 501(3)(c), non-profit, tax-exempt volunteering organization who helps the needy people regardless of their race, religion, color, ethnicity, or gender. VHP of America Tax ID# is 510-156-325.
---
Source: VHP of America