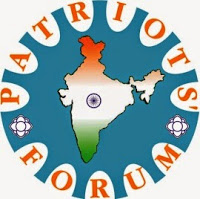 (Weekly Newsletter of Patriots' Forum) www.patriotsforum.org
Patriotism is the best form of Nationalism
Dear Enlightened Readers,
A common man elected as the President in Indonesia.

Obama calls for cease fire over Gaza.

Indian Foreign Minister made a successful visit to Nepal. The Prime Minister is scheduled to be there on August 3, 2014.

Libya-the new base for terror horror.

Top Lashkar operative arrested in Delhi.

UP Burns over communal riots between Sikhs and Muslims at Saharanpur.

A new Chairman of the Chiefs of Staff Committee took over on July 30 and a new Army Chief took over on July 31, 2014.

July 26 observed as Vijay Diwas on Kargil Victory on this day.

A suitable National War Memorial required.

The Nation paid tribute to JRD Tata.
Thanking you & with regards,
Yours sincerely,
D.C. Nath
(On behalf of the Patriots' Forum)
+919811995693
U.S. Secretary of State John Kerry calls on Indian PM: Visiting US Secretaries conveyed that President Obama attaches great priority to relations with India.
http://www.security-risks.com/security-trends-south-asia/other-security-trends/u.s.-secretary-of-state-john-kerry-call-onindian-pm-3193.html
Common Man Elected President In Jakarta: He was Joko Widodo. Won the Presidential election in Indonesia with
53% of the vote. (Associated Press, The Hindustan Times, July 25, 2014)
Ukraine PM Resigns: This happened on July 24, deepening the political crisis in the country.(Reuters, July 25, 2014)
Indian Foreign Minister on A Trip to Nepal: Historic opportunities to bolster ties, said Nepal. This visit will be followed up by the Indian Prime Minister's proposed visit to Kathmandu on August 3, 2014. (All Press, July 27, 2014)
Obama Calls For Gaza Ceasefire: He also supported Egypt's peace initiative.     (PTI, The Statesman, July 29, 2014)
After Iraq, Libya New Honor: A big tussle is going on between Islamists and a former General in Benghazi, killing scores, prompting different countries to ask their citizens to leave. The GOI have also done that. (All Press, 30,7.14)
Sri Lanka tenders apology to Indian PM and Tamil Nadu CM: Carrying the article commenting on Tamil Nadu CM on the Ministry of Defence website was clearly an affront that India could not have accepted from any government http://www.security-risks.com/security-trends-south-asia/sri-lanka/sri-lanka-tenders-apology-to-indian-pm-and-tamilnadu-cm-3194.html US Loses Track of Arms Given to Afghan Security Forces: A new U.S. government report says the military has not effectively kept track of the light weapons it supplied to Afghanistan's army and police. http://www.securityrisks.com/security-trends-south-asia/afghanistan/us-loses-track-of-arms-given-to-afghan-security-forces-3170.html
Strength of the Maoist groups is around 8,500: Govt.: Only 200 killed during the past one year as Naxals retain strike potential. http://www.security-risks.com/security-trends-south-asia/naxalism/strength-of-the-maoist-groups-isaround-8500-govt-3182.html
Jihadists Behead Soldiers in Syria: They had seized a Syrian army-base in the northern province of Raga killing scores of government troops and beheaded some of them. (AFP, The Hindustan Times, July 27, 2014)
Mumbai on Alert Over "Gaza Threat": The city police received a letter threatening attack on Jewish places of worship in the city.         (The Hindustan Times, July 28, 2014)
Laskar's Top Operative Held in The Capital: He was allegedly involved in indoctrination and recruitment of youths and planning and execution of terror strikes across the country. (All Press, July 29, 2014)
Suicide Bomber Kills Afghan Prez's Cousin: This happened on Tuesday, when a suicide bomber with a bomb inside his turban struck. Indian PM writes to Afghan President Condoles demise of his cousin. http://www.securityrisks.com/security-trends-south-asia/afghanistan/indian-pm-writes-to-afghan-president-3184.html
Vijay Diwas (Kargil War) was befittingly celebrated on July 26, 2014.
Indian Army Chief's LOC Comments: Onus on Front Line Troops: General Dalbir stated on response to a cross border action commonly known as BAT (Border Action Team) operation. "I can tell you that our response to any such act will be more than adequate in future. It will be intense and immediate," said the new Army Chief in his first media sound byte on taking over.
http://www.security-risks.com/security-trends-south-asia/pakistan/new-army-chiefs-loc-comments-onus-on-front-linetroops-3198.html Two Import Developments In Two Days: Air Chief Marshal Arup Raha, took over as the Chairman of the Chiefs of Staff Committee being the senior most among the chiefs of Army, Navy & Airforce and Gen. Dalbir Singh Suhag took over as the Army Chief on July 31, 2014. Raha an ardent supporter of Tri-Services Jointmanship says a release.
http://www.security-risks.com/security-trends-south-asia/india-defence/air-chief-marshal-arup-raha-takes-over-as-new-
cosc-3183.html 200 Pak Militants in Camps Across LOC: This was claimed by the GOC of 16 corps on Saturday.
(PTI, The Asian Age, July 25, 2014) BSF Wants Jawans to send Complaint in Email, Blog: A very welcome move announced by the DG, BSF.
(All Press, July 29, 2014)
UP Burns: Communal Riots between Sikhs and Muslim: This was on July 26, 2014, at Saharanpur. Three killed and several injured after the Sikhs won the case over a disputed piece of land at the High Court level. (All Press, 27,7 14) UP Burns again the second day in succession: Another three killed at Saharanpur. Two police men were critically
injured.                                                                                                                   (All Press, July 27, 2014)
Honour our Heroes: No other country has as many war widows-roughly25000- as in India. Yet we do not have a "National War Memorial" to honour the tremendous sacrifice made by our brave soldiers of all ranks. It is time this wrong is righted on the occasion of the "Vijay Diwas" on July 26, observed on the Kargil Victory. (The Times of India, 26,7.14)
Over 2 Billion People Are Poor: UN: Thus growing inequality remains a great threat, especially when poverty as whole is declining worldwide.   (Agence France Presse, The Statesman, July 25, 2014)
Govt Okays 49 per cent FDI In Insurance Industry: The decision ensures government control in the hands of the
Indian promoters. The Chambers of Commerce have welcomed the decision. The matter is now being debated
Parliament. (All Press, July 25, 2014)
Tremendous Mood Swing, Positivity on Modi Govt: This was stated in Washington by a visiting delegation from the
CII  when on a visit to the US.     (The Sunday Pioneer, July 27, 2014)
One Cop Killed and 12 Others Injured In Pre-dawn Kashmir Violence: This happened in two different incidents: one, when suspected militants hurled grenades and opened fire on a police team in Sopore. A police man was killed. The
other one was on a non-issue almost.     (The Hindustan Times, July 27, 2014) Sikh Heritage Museum Inaugurated: This was done at Banglasahib Gurdwara, New Delhi, on July 26, 2014. (The Asian Age, July 27, 2014)
The Nation pays tribute to JRD Tata, the pioneering as also towering Industrialist, on his birthday, falling on July
27, way-back in 1904.                                        (Press)
Indian Army Plans Task force To Clean Ganga: This is a major initiative, creating faith in the minds of the general public on the government's move to take up this project. (The Asian Age, July 29, 2014)
Illegal Loudspeakers at Mosques Must Go: HC: The Bombay High Court so directed the police on July 30,
2014. This was in response to a PIL.
(The Times of India, July 31, 2014)
SIMI Ban Stays: Delhi High Court: The Court upheld the Centre's ban on the SIMI for another five years.(The Indian Express, July 31, 2014)
Nepal Desires To Be Included In Indian Pilgrimage Circuit: Awaiting the visit the projected visit of the Indian Prime Minister To Kathmandu on August3,the government of Nepal want to take this up so that religious tourism in Nepal receives some boost.    (The Pioneer, July 25, 2014)
Hariyali Teej Puja: Literally, "teej" means "third". Therefore Teej falls on the third day after the moonless night
(Amavasya) and the third day after the full moon night of every month. However, the third day after the new moon or
Amavasya of Shraavana () month is the most important Teej. As Shraavana (or Saawan) month falls during monsoon or rainy season when the surroundings become green, the Shraavana Teej is also called Hariyali Teej (Green Teej).
Teej is the festival of swings. It marks the advent of the monsoon month of Shravan (August). The monsoon rains fall on the parched land and the pleasing scent of the wet soil rises into the air. Swings are hung from trees and women dressed in green clothes sing songs in celebration of the advent of the monsoon.
This festival is dedicated to the Goddess
Parvati, commemorating her union with Lord Shiva. Goddess Parvati is worshipped by seekers of conjugal bliss and happiness. An elaborate procession is taken out in Jaipur for two consecutive
days on the festive occasion which is watched by people in large numbers. The Teej idol is covered with a canopy whereas the Gangaur idol is open. The traditional Ghevar sweet is also associated with the festival.
Even when we take care to send our newsletters to only those who are interested in receiving them, we apologise for disturbing you, should you not be interested in our patriotic initiative. Kindly send blank e-mail to sbtyagi1958@gmail.com with 'Unsubscribe, written in subject block. We will do the needful immediately.
Source: Via WHN Publisher Email