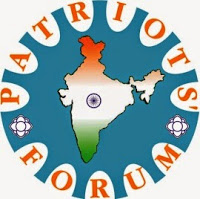 Dear Enlightened Readers,
There have been terrible news; there have been good new, this week:
· "World" met at Paris on January 12 over the attack on Charlie Hebdo. The USA chose to remain absent;
· Charlie came out with vehemence with the next issue more than 3 million copies sold out;
· Boko Haram burnt villages and drove out more than 11,000 in Nigeria;
· LeT's navy waiting in the wing for launching themselves against India;
· Schools in Jammu and Kashmir are on Pak Ultra's hit list;
· Delhi Election on February 7 and counting on February 10;
· Army Day observed on January 15;
· India's Mangalayan gets International Space Pioneer Award;
· Indian Railways steamed off on CNG;
· Government for English as the medium in SC and HC;
· Bangladesh gets the first Hindu Chief Justice.
Thanking you & with regards,
Yours sincerely,
D.C. Nath
(On behalf of the Patriots' Forum)
80 PF Weekly Newsletter <== Downloadable PDF File
Source: ​Patriot Forum
Disclaimer: The opinions expressed within this article /news /published content are the personal opinions of the submitting author / organization. World Hindu News  is not responsible for the accuracy, completeness, suitability, or validity of any information on this article /news/published content. All information  received is provided on an as-is basis. The information, facts or opinions appearing in the article / news /published content do not reflect the views of World Hindu News and World Hindu News does not assume any responsibility or liability for the same.​