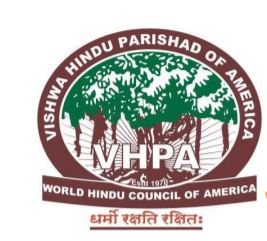 World Hindu Council of America (VHPA) strongly condemns the lynching of Hindu sadhus (ascetics, monks) in Palgarh, India. The monks and their driver were traveling through the area when a murderous mob of over a hundred lynched the sadhus. 70-year-old Kalpavrishka Giri Maharaj and 35-year-old Sushil Giri Maharaj along with their driver, 30-year-old Nilesh Telgade were murdered. The sadhus were associated with the Juna Akhara, one of the oldest Sanyasi Parampara (ascetic lineage) religious traditions when they were on their way from Mumbai to Gujarat to pay final respects to their Guru, who had passed away recently.
The murder of these sadhus is the latest in a series of events where Hindus have been targeted in India with impunity. The videos shockingly depicts the local police handing over the sadhus and their drivers to the mob and meekly watching, as the ghastly deed is carried out.
Ajay Shah, Executive Vice President of VHPA said, "We believe that the mob lynching of sadhus is the result of decades of Hindu-hate, propagated by those who seek to break the Hindu society through terrorism and conversions. We implore the Hindu society to recognize these threats that are often global, and unite to preserve the universal Hindu values and Hindu way of life. The silence of India's self proclaimed "intellectuals" is even more jarring. A mere unsubstantiated allegation against Hindus brings out the loudest anti-Hindu voices in the national and international media. However, this brutal killing of sadhus has not even registered a mild condemnation. The VHPA, which has been consistent in upholding the value of all human lives as important, calls up on all the faith based organizations, intellectuals and media to recognize that Hindu lives matter."
Utsav Chakrabarti, VHPA's Director of Awareness and Advocacy added: "The brutal events of Palghar show that despite being a majority in India, Hindus face threat from radical and extremists who find political patronage and economic support in many countries around the world. It is unfortunate that mainstream media outlets in the US continue to show their bias by ignoring violence targeting Hindu communities. A memorial should be erected in honor of the Sadhus at Palghar, the localities where they were murdered should be renamed after them."
The World Hindu Council of America demands that the state Government of Maharashtra, set up a time bound enquiry by an impartial commission and prosecute the criminals to the fullest extent of the law.
---
Source: World Hindu News