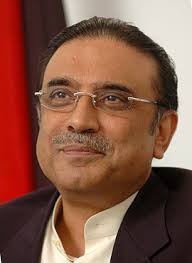 Pakistan Peoples' Party (PPP) co-chairman and former President Asif Ali Zardari has greeted the Hindu community of the country on the occasion of Deewali being celebrated today.
It a statement issued here on Wednesday, Asif Zardari said, "I wish to extend on my behalf, on behalf of PPP and on behalf of the people of Pakistan heartiest greetings to all members of the Hindu communities on the occasion of Deewali".
He said that PPP believes in the principles enunciated by our father founder Quaid-e-Azam that all citizens irrespective of their religious faith and social status were equal citizens of the state and enjoyed equal rights as enshrined in our Constitution.Zardari stressed that all minorities, of Pakistan are equal citizens of the state and must be given equal rights including the right to vote for all candidates along with Muslim voters.