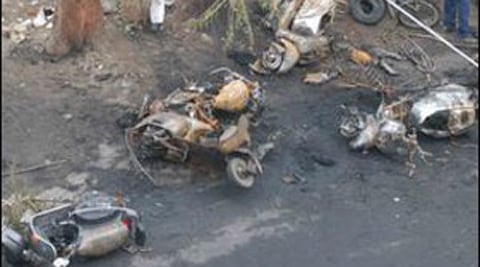 "THE National Investigating Agency (NIA) has sought rejection of the application filed by an accused, an alleged member of a Hindu extremist group, in the 2006 Malegoan blast case opposing the discharge plea of nine Muslim men.
The Maharashtra Anti-Terrorism Squad had arrested nine muslim men in connection of two blasts. Noorul Huda Samsudoha (28), Shabbir Ahmed Masiullah (41), Raees Ahmed Rajab Ali Mansuri (35), Dr Salman Farsi Abdul Latif Aimi (40), Dr Farogh Iqbal Ahmed Magdumi (38), Mohammad Ali Alam Sheikh (42), Asif Khan Bashir Khan alias Junaid (35), Mohammad Zahid Abdul Majid Ansari (31) and Abrar Ahmed Gulam Ahmed (38) arrested in connection with the two blasts.
But now, NIA claimed that the blasts were carried out by others.
The aforesaid nine Muslim men got bail, and filed application for discharge, which is being heard. "