Ladies and Gentlemen:
Many of us of Indian heritage in US, as being the residents and citizens of the Oldest Democracy of the World, are very much interested to follow the 2014 Parliamentary Election of India, the largest Democracy of the World. We welcome the largest ever citizen participated National Election of India and Congratulate both the Electorate and the Election results, giving both Bhartya Janata Party – BJP a single Party Majority and its National Democratic Alliance (NDA) Partners, a combined 300+ seats in the Lower Hose of the Parliament – The Loke Sabha. 
As being Mookerjees, a prominent of us Dr. Shyama Prasad Mookerjee was a Cofounder of Bhartya Jan Sangh Party in early 1950s, are very much appreciative of a Long Struggled and Waited Victory of Majority of India – from Himalayas to Kannyakumarika and Bay of Bengal to Arabian Sea; and it is overdue since the independence of India!!!
But while watching the National Election we found several inconsistencies, including-violence, rigging, and polling booth interferences which question the Transparency, Legitimacy, Conflict of Interest and Sanity of the Election Process, which supposed to be conducted by an Independent and Unbiased Election Commission!!!  But we have noticed otherwise. 
According to the Respected Newspapers and Electronic Media of India, The Election Commission reports to The President of India for Conducting Parliamentary Election, where President's son is a Candidate!!! and won the Election, which is alleged to have many controversies!!!
The Respected Indian Media reported numerous disagreements between Senior Members of Election Commission and the Chief Election Commissioner regarding the Style and Process of
Conducting the election through reported Voting Booth Rigging, Violence and intimidation encouraged by inactive Law Enforcement. Only to know, The Highest level of Administration tried to appease the
process in avoiding public notice rather TAKING BOLD ACTIONS!!!
It is True in Many Western Democracies, "Dead Men and Women Vote" during election process and Ruffians intimidate voters to exercise their Constitutional Rights; but Not To A Degree of Violence and
Intimidation –  causing harm to life and limbs of voters and their households, one that the Whole World Has Witnessed during The 2014 Indian Parliamentary Election in INDIA.
We, The Global Citizens of Indian Heritage, humbly request the Newly Elected Prime Minister of India, The Honorable Narendra Modi, to review the Present Election Process and its difficulties in Conducting a Transparent ans Fair Election.  We hope the Newly Checked and Balanced Election Process, will guaranty the Hope and Aspiration of Indian Electorate for a FUTURE CLEAN, RESPOSIBLE & RESPECTED ELECTION PROCESS OF INDIA – A YOUNG BUT TIME TESTED & SECURED DEMOCRACY!!!!!
Respectfully Submitted to Our Brothers and Sisters of India,
Gauranga and Kalpana Mookerjee
_________________________________________________________________________________________________________________________________________________________________-
ABOUT THE AUTHOR:  MR. GORAY MOOKERJEE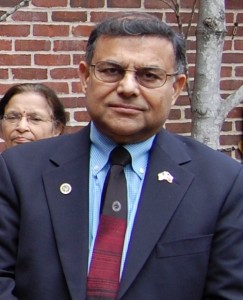 Mr. Goray Mookerjee, PE is a
 registered Professional Engineer (PE) with MSEE and BSEE, and over 40 plus years of experience in power and energy industry, as a Program Director, Project Manager, etc., with: an Electric Utility, and major Engineering and Construction firms; as an American Association of Advancement of Science Fellow in The US Department of Energy (DOE); and as a Chairman and Emeritus Member of Michigan Engineering Licensing Board and National Council of Engineers & Surveyor Examination Board.
Involved in The United States (US) Department of Energy (DOE) in Developing Department's policies and programs for Clean Energy Technology, Energy Efficiency, Environmental Protection & Emission Control, Advanced and Small Nuclear Reactors, Alternative and Renewable Energy Sources; and worked with Environmental Protection Agency (EPA), Department Of Defense (DOD), Department of Homeland Security (DHS), Nuclear Regulatory Commission (NRC), Office of Science Technology Policy (OSTP), Office of Management and Budget (OMB) and Office of Vice President, during Presidents Clinton and Bush, Jr. Administrations. Also he was a Member of Energy Secretary's Team for International Cooperation and participated in Foreign Missions.
*******
Disclaimer: The opinions expressed within this article are the personal opinions of the author. World Hindu News  is not responsible for the accuracy, completeness, suitability, or validity of any information on this article. All information is provided on an as-is basis. The information, facts or opinions appearing in the article do not reflect the views of World Hindu News and World Hindu News does not assume any responsibility or liability for the same.