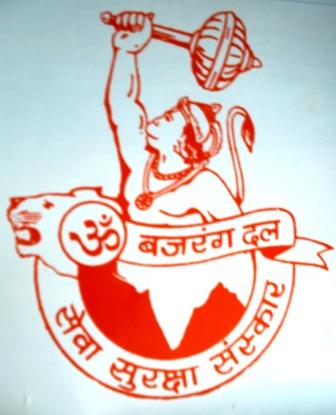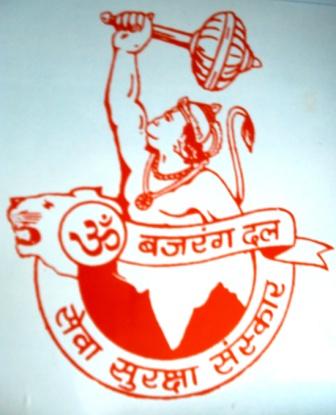 Days after Vishwa Hindu Parishad (VHP) announced that it will install idols of Lord Ram in villages to "unite Hindus" and seek support to build Ram temple in Ayodhya movement, now its youth wing Bajrang Dal has decided to install idols of Lord Hanuman in at least 10,000 villages across the country on the occasion of Hanuman Jayanti in April.
Bajrang Dal plans to install the idols in at least 10 villages in every district with three aims: To increase the number of temples in the country; unite Hindus; and motivate people to believe in god.
Its activists will regularly organise akhara (for wrestling) and weekly meetings near the place where idol is installed. It will develop these places as 'shakti saadhna kendra' in future.
"Idols of Lord Hanuman, carved in stone, will be installed in around 10,000 villages across the country in April to unite Hindus. Number of temples would be increased through that campaign and habit to visit temples would be developed in people. Hindus will unite and take part in prayers daily," said Surendra Mishra, Bajrang Dal convener of UP-Uttarkhand.
The villages will be selected based on two criteria —- lack of temple in that village, and lack of basic amenities there. "Once an idol is installed, people from adjoining areas and Bajrang Dal workers will regularly visit that village and motivate the administration as well as locals for development of the area," Mishra said.
Bajrang Dal has already started identifying the public places in villages for installation of idols, which will be between two to five feet high. In case of any opposition from locals or administration, the idol will installed on the land of any Bajrang Dal worker in the selected village.
The VHP youth wing's latest move is part of "RSS's pro-Hindutva campaign". VHP has already decided to develop 1.5 lakh Adarsh Hindu Gaon (model Hindu villages) across country. As part of this campaign, VHP leaders will plant Panchvati tree saplings in the months of June and July. Regarded sacred by Hindus, as the trees have been mentioned in Ramayana, and used in various forms of worship, the Panchvati trees include peepal (fig), bargad (banyan), goolar (cluster fig), bel (wood apple) and Shami. The VHP activists will also plant tulsi (basil) saplings at houses of 'Hindus' in these villages.
'Ghar wapsi will continue'
Etah: DESPITE controversy surrounding its "ghar wapsi" initiative, VHP national general secretary Ashok Tiwari today said the programme will continue till all those people who "left their home" have been reconverted. "Ghar wapsi is not a bad thing at all. It will continue till we bring back those people who left their homes," Tiwari said while addressing a 'Hindu Sammelan' here.  "India is a Hindu nation and no power in the world can change that," he claimed. He also demanded Bangladeshi immigrants in the country to be sent back. "Illegal Bangladeshi immigrants have been influencing elections results. This appeasement policy is proving harmful for the country and they must be sent back," Tiwari said. (PTI)