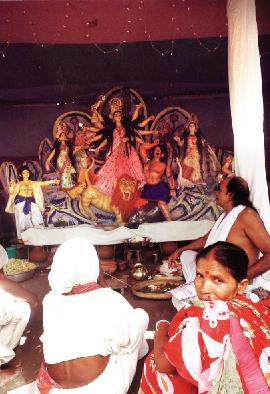 The three Hindu-majority villages that came under attack in various phases are Satpatki Majhipara, Shafinagar and Ghoshpara
Attacked Hindu families in three villages of Lalmonirhat have started to regroup and rebuild their homes and shops damaged in a series of attacks by the opposition activists since late October.
However, lack of adequate funds and government help and minimum security arrangements are making their journey to recovery an excruciatingly slow one. Many, too poor to make a self-help recovery, are going through hard times.
The three Hindu-majority villages that came under attack in various phases are Satpatki Majhipara, Shafinagar and Ghoshpara.
Birendra Nath Sen, 48, whose shop was vandalised and goods worth Tk150,000 looted on October 27, said he had tried resuming his business but stopped halfway through because of fund crunch.
"Two of my computers and a photocopier were totally damaged. I had started my business with bank loan, which I haven't repaid yet, and now came this new problem.
"I feel helpless. I don't know how to recoup these losses and start my business all over again," he said.
In the attack on that day, at least 18 shops owned by Hindus were either burnt, vandalised or looted – or all three at once in some cases. Dipend Chandra Sen, whose shop was one of those burnt, said he had taken up rickshaw-pulling in order to survive.
"I have no option but to take help if I want to start my business again. I lost everything in that attack."
In another attack on the eve of the Election Day, some six individuals including a community leader were stabbed and subsequently admitted to Rangpur Medical College Hospital. They are yet to recover fully.
On November 4, Satpatki Majhipara came under a major attack in which at least 40 houses were searched and four of them vandalised and looted. The assailants who carried out the attack also assaulted 15 individuals including several women.
Niro Bala, 60, a Hindu widow, alleged that the assailants had looted cash money from her house after damaging it. "I still don't know how I am going to rebuild my house."
In another attack on 28 November, some seven trade centres and two houses of the Hindus at the Ghoshpara village were attacked, vandalised and looted by the Jamaat-Shibir cadres. The gang allegedly also assaulted several Hindu women and children during this time.
Ranjit Chandra Ghosh, 48, a shop owner who lost goods worth about Tk200,000 in the attack, said he had no way to recoup the loss. "I have been trying to manage a job, but luck hasn't been in my favour since the attack."
The attacked Hindus in the villages urged the government and the affluent section of society to extend their help in order for them to recover and rebuild their lives.