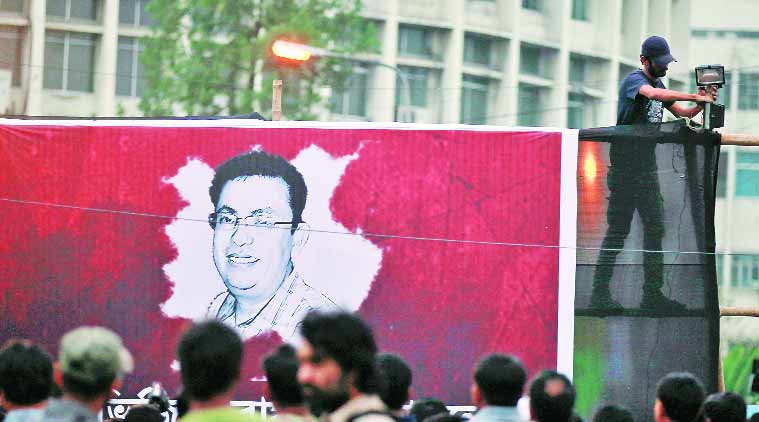 About two years ago, Asif Mohiuddin, 31, was on his way to office in an upscale Dhaka neighbourhood when he was accosted by three men, who later identified themselves as members of Ansarullah Bangla group, part of the Al-Qaeda network. Like Bangladeshi blogger Avijit Roy, who was slaughtered in the heart of Dhaka last month, Mohiuddin was stabbed six times on his neck and shoulder. Fortunately, he survived. Mohiuddin and Roy are members of a new kind of pariah club in Bangladesh.
"I am paying a price for being an atheist blogger in Bangladesh. I write blogs because I don't trust our controlled mainstream media. I write especially against religious fundamentalism, religion-based politics, religious institutions and their oppression of women," says Mohiuddin. In March 2013, a newly formed group named Hefazat-E-Islam demanded death penalty for all atheist bloggers in Bangladesh. They marched to the heart of Dhaka with half a million supporters, burning effigies and pictures of Mohiuddin.
Roy, who was a founding member of the US-based atheist-humanist blog Mukto-Mona (Freethinker), offended extremist groups with his pronounced atheist views. In 2001, when Roy along with seven other expatriate Bangladeshis launched Mukto-Mona, it was a closed Yahoo group. "But he soon realised that a larger platform was needed for people to air their views as extremism was taking prominence in Bangladesh. In 2004, militants belonging to banned extremist group Harkat-ul-Jihad al-Islami launched an attack on the British high commissioner in Bangladesh. In 2005, there was countrywide bombing by Jamaat-ul-Mujahideen, Bangladesh," says Ahemede Hussain, who edited the book The New Anthem: The Subcontinent in its Own Words and was a journalist with Bangladeshi daily The Daily Star for close to a decade.
Eleven years ago, in the same week of February and at the same time that Roy was killed, Humayun Azad, a Bengali novelist, was stabbed in a similar manner just a few feet away from where Roy's body lay on 26 February. In 2013, during the Shahbag protests, atheist blogger Ahmed Rajib Haider was hacked by machete-wielding activists in a similar fashion.
It's, therefore, not without reason that it is being assumed that the 80-plus bloggers who were instrumental in motivating the Shahbag movement, which led to the life imprisonment of Abdul Quader Molla, a Bangladeshi Islamist leader, are being targeted. "The style of the attack has been the same. They want to create panic to stop the secular voice. I was threatened several times, and attacked a few times. I know what they want. But it is they who are afraid, not us. They are scared of our voice, our pen. I can guarantee that I will never use any violence against them, but I will keep attacking their ideology and criticising their views in my writings," says Mohiuddin.
 writers who did not support the Shahbag movement have claimed that they too have received threats and warnings from the government as well as extremist groups. Aman Abudhu, who blogs through Facebook, is one such writer. "My position as a blogger-writer is against the Shahbag movement as it was clearly a fascist government-sponsored plot against justice and humanity in Bangladesh. Most people were deceived in the beginning, but they eventually understood. Look at Shahbag now, not even 40-50 people go there when they call for a protest or any program. Thousands of those who write against Shahbag are oppressed by the government. The government is using the so-called 'Information act' to arrest and harass people who have a different point of view and political position," says Abudhu.
Hussain, who is also an active blogger, has received several threats from extremist groups as well as the government even when he was a journalist. Mahmudur Rahman, chief editor of the most popular "anti-government" newspaper Amardesh was put in jail recently, and the newspaper has been suspended. Mosaddeq Ali Falu, the owner of the most popular and globally broadcast Bangladeshi TV channel, NTV, was arrested recently. He is also a senior political leader in the opposition. The chief executive of another popular TV channel, ETV, is in jail for the last several months. Motiur Rahman, editor of popular newspaper Daily Manabzamin just got his TV talk show suspended. The editors of the largest circulated Bengali and English newspapers Prothom Alo and The Daily Star were also allegedly threatened by the government recently.
In the last few years, several university teachers have lost their jobs because their Facebook status messages were found "offensive". In 2012, a lecturer of information technology at suburban Jahangirnagar University was sent to jail for writing an anti-Sheikh Hasina status message. "In general, print and electronic media are using extraordinary self censorship for now, leaving social media forums like Facebook and Twitter, and blogs which allows writers to remain faceless or nameless as the only viable to publish the much-needed critical content," says Shafquat Rabbee, who produces and manages various online portals, news journals, blogs, radio shows and animation cartoons on Bangladeshi politics. Rabbee chose not to disclose his location as he fears for his safety.
The recent amendments to the country's Information and Communication Technology (ICT) Act make bloggers more vulnerable to persecution. According to the law, damaging the "state's image" and causing "deterioration" of law and order through the electronic medium is a cognisable offence. "It seems to be designed to target voices that criticise the government. The government and its machinery is not perfect and neither are the people in the government omniscient. If their decisions are against the people, political parties can protest and come out with rallies and meetings. But people who have lost faith in the given political system but do not want to go to rallies either have no options left. The government is unwilling to listen," says Rasel Pervez, who has been blogging since 2006 and is a researcher in Japan.
Bloggers and activists say no one who dares to express their thoughts, let alone raise their voice in Bangladesh is safe. "The pro-government youth of Shahbag movement and the opposition supporting youth are both targeted for taking a political stance, it's just that the forces targeting them are different. One is targeted by the state machinery and the other by reactionary elements of the society," says Rabee.
Source : Indian Express