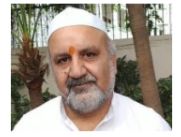 Founder & Chairman, Save Sharda Committee, Kashmir
Mr. Pandita is a Socio-Religious Activist. Originally from Kashmir is now based in New Delhi. He is founder & chairman of Save Sharda Committee, Kashmir, a pressure group for the reopening of Sharda pilgrimage in POK. Additionally, he heads, "All Party Migrant Coordination Committee" involved in setting up of Sharda University, passing of Temples Bill, Reclaiming Temple & Shrine properties in Kashmir. By profession, Mr. is a civil Engineer and runs a consulting company in New Delhi.
Mr. Pandita in his youth has anchored for AIR & Doordarshan Srinagar, Kashmir.