Tamil Nadu BJP State Secretary SG Suryah was arrested on the intervening night of 16 and 27 June 2023 for his statement against Madurai Communist Party of India (Marxist) MP Su Venkatesan over the death of a hygiene worker who was allegedly forced to clean a faeces-filled drain by a Communist councillor.
In a scathing letter addressed to Madurai MP Su Venkatesan, BJP Tamil Nadu State Secretary SG Suryah had alleged that a hygiene worker died due to allergies in the body after a Communist party ward member named Viswanathan forced him to clean the drain.
In what seems to be an overlooked trivial error, Suryah in his statement had misattributed the death that happened in Cuddalore to Madurai while condemning the Madurai CPI-M MP's stoic silence on the matter.
But the incident did happen in the Pennadam area of Cuddalore district which virtually went unreported by the Dravidian Stockist media
Here's What Happened
According to a complaint filed by Deepa (30) with the Pennadam police station, her husband Babu, who has been working as a hygiene worker with the Pennadam municipality for the last 18 years had left for work as usual on 19 May 2023 when he was called by the Nathan aka Viswanathan, the 12th ward councillor belonging to Communist party, to clean a drain in his area.
Babu informed his supervisor at the municipality and left for cleaning the drain at Siluppanur Road in Metu Theru area.
He got in the drain at around 10 30 AM after which he started feeling nauseated and fell unconscious, possibly due to asphyxiation from inhaling the poisonous gas in the drain.
Deepa further goes on to state that his co-workers namely – Ganesan, Sundaram, and Sekar – took Babu in an auto to a hospital in Pennadam for first aid. The doctors apparently informed that he had inhaled poisonous gas and needed higher grade treatment. They then rushed Babu to Dhanalakshmi Srinivasan Medical College And Hospital in Perambalur where the doctors informed that he was in a critical condition. Then they took him to Kaveri Hospital in Trichy.
As per the statement given by Deepa, Babu failed to respond to the treatment and died on 24 May 2023 at 12:30 AM.
"My husband died as he was not given protective gears and mask by Pennadam Municipality Executive Officer, the contractor and Ward 12 Councillor. Hence I request that appropriate legal action be taken against the above individuals and handover my husband's body to me.", the complaint reads.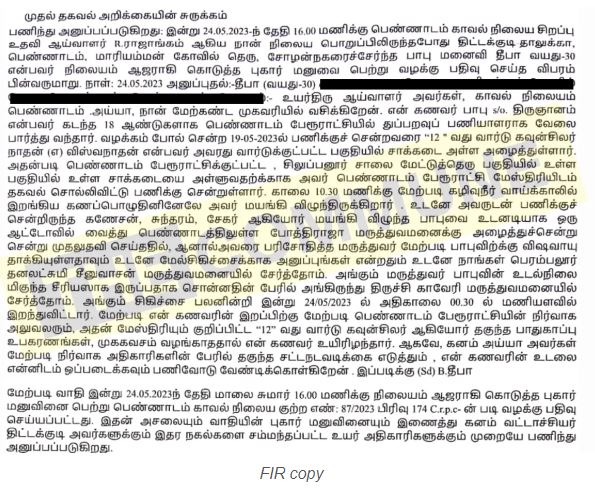 Based on the complaint filed by Deepa on 24 May 2023 at around 4 PM, a case (87/2023) was registered under section 174 of the Criminal Procedure Code (CrPC) which is applied when a person has committed suicide, or has been killed by another or by an animal or by machinery or by an accident, or has died under circumstances raising a reasonable suspicion that some other person has committed an offence.
Section 174 of CrPC mandates a simple imprisonment for a term which may extend to six months, or with fine which may extend to one thousand rupees, or with both.
Despite prima facie evidence showing that the hygiene worker died as a result of entering the drain, the accused have not been booked under Prohibition of Employment as Manual Scavengers and their Rehabilitation Act or Section 304A (causing death by negligence).
National Commission For Safai Karamcharis Investigate
Chairperson of National Commission for Safai Karamcharis (NCSK) Ma. Venkatesan along with a team of officials visited Pennadam on 3 June 2023 to inquire about the incident. He also visited the spot where the deceased Babu was made to enter the drain and clean it.
Speaking to The Commune, Ma. Venkatesan noted that during their field investigation, the co-workers and relatives of the deceased openly said that Babu had gone to clean the drain at the insistence of the Communist ward councillor Nathan alias Viswanathan.
He also said that the they've testified the same before the District Collector and the Superintendent of Police as well.
Ma. Venkatesan also questioned why the police have filed a case as suicide / suspicious death instead of slapping section 304A or under the Prohibition of Manual Scavenging Act.
more to read at below link
Source: The Commune
---
BJP TN Leader SG Suryah's Arrest Puts Spotlight On Hygiene Worker's Death That Went Unreported, Widowed Wife Blames Communist Councillor