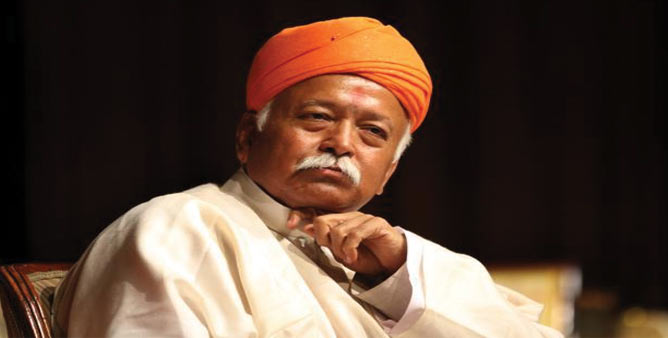 NAGPUR: RSS chief Mohan Bhagwat told intellectuals, educationists and academicians to come out with a new indigenous model of education that would be universal in its appeal and produce better human beings. "No one is happy with the education system. Globally, there is a view that the way we teach and learn needs drastic changes.

They are all looking towards India to provide a new direction because, in ancient times, India was the greatest centre of learning. We held leadership position for centuries and now have to regain it," said Bhagwat.

He was addressing a gathering of over 250 academicians, including eight vice-chancellors, professors and educationists who are here to deliberate on theme of 'Nationalist Education: Concept and Structure,' organized at the Reshimbagh facility of the RSS.
The opening session of the two-day conference that began on Tuesday was addressed by senior Sangh functionary Suresh Soni. Ahmadabad-based Punarotthan Vidyapeeth ( Revival University) headed by Sangh activist Indumati Katdare is the organizer of the meet. The objective is to work out a consensus on an indigenous education system based totally on ancient Indian values and knowledge base. Govind Prabhu of ISKCON presided over the function.

"The change is much-needed and even cause of worry because education shapes the next generation and impacts whole of humanity. Several thinkers with varying ideological affinities are at work. So we have a huge responsibility, more so with the whole world hoping that India would show the path to better learning for peaceful and contended life," said the RSS chief.

"Any such endeavour should be all-encompassing, broad and universal in scope. The Vidyapeeth should widen its consultations drawing from all thinking classes and sections to evolve a system that is acceptable to even critics of Sangh Parivar," said Bhagwat. He said the process should be more of a social movement and not a constricted view.

"First fix your goals, summon the requisite determination to pursue it. But then also ensure that the new model is practicable. The process should also involve a lot of unlearning and decolonization of mindsets," he told the stakeholders.

The Sarsanghchalak also made it clear that the new model should take a holistic view and revamp the education system. "Make it worth it so that we don't have to go to others seeking patronage but make others to come to us to adopt this model," he said implying that the non-government process was not to be thrust on governments but to be offered as a superior model that would be lapped up by all those fervently seeking a better model.