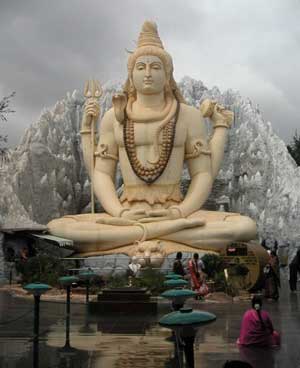 Devotees across the country are celebrating Maha Shivratri today, worshipping Lord Shiva, who is also known as the 'destroyer of evil'.
Long queues of devotees were seen at various temples of Lord Shiva since the break of the dawn. Devotees were seen offering bael leaves, milk and honey to 'Shivling' and chant the name of Lord Shiva.
Maha Shivratri is considered auspicious for spiritual growth and is celebrated with immense fervour and a pious spirit by devotees of Lord Shiva.
According to Hindu almanac, Maha Shivratri is celebrated on the 13th night and the 14th day of the Phalguna month (somewhere in February and March).
The festival, also known as 'the great night of Shiva', celebrates the overcoming of darkness and ignorance. It also marks the beginning of spring.
While the origin of the festival is not known, legend has it that on Maha Shivratri Lord Shiva got married to Goddess Parvati, while some believe that Lord Shiva drank poison to protect the world. Others believe that Maha Shivratri is the night when Lord Shiv performs the heavenly dance of creation, preservation and destruction.
On the occasion of Maha Shivratri, the Kumbh Mela in Prayagraj, Uttar Pradesh will witness the last dip at the Sangam, or the holy confluence of the Ganga, Yamuna and the mythical Saraswati. The 55-day long Kumbh ends on this day.