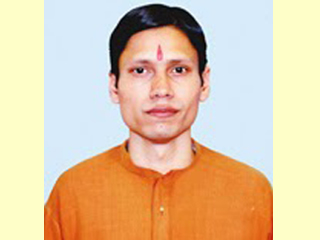 Devout 'Gou-rakshaks' who are fit to receive God's grace, anti-Hindu elected representatives who harass them and worthless democracy !
'Gou-rakshaks' should not feel that their movement of protection of cows has failed !
Incident of police brutally beating 'Gou-rakshaks' who staged agitation occurred at Pimpri, Pune. Gou-premis' staged agitation despite knowing that police would beat them up; because of their burning pride unto Dharma, love towards 'Gou-mata', earnestness in staging agitation and their selfless motive !
'Gou-premis' might feel that their agitation has failed but they have passed the test of being firm on protection of Dharma and they have become fit to acquire God's grace. The agitation has, therefore, been successful in this respect. If devout Hindus from all over the country act with such dedication for protection of Dharma and of other devout Hindus, God will have to come for establishment of Hindu Rashtra !
Incident showing futility of democracy !
Law imposing ban on cow-slaughter is in force in some States whereas 'Gou-Premis' have to face cane-charge in other States for getting it implemented. The principles of Dharma are same everywhere at all times. Practice of performing 'Shodashopchaar 'puja', reciting God's 'mantras' and chanting God's name etc. is similar from Kashmir to Kanyakumari. In this context, in the sovereign India where it is ruled by one democracy, implementation of one law in one State and its non-implementation in another State is not only beyond comprehension, bu a shame and its sheer ridicule shows nothing but the futility of democracy ! Hindu Rashtra is the only solution to all these problems !
-(H.H.) Shri. Sandip Alashi (14.10.2014)  
Source : Dainik Sanatan Prabhat