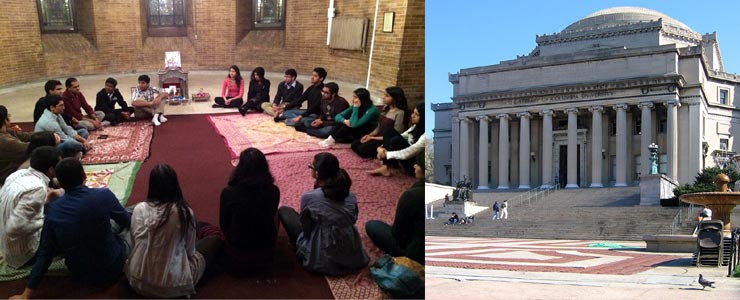 Hindus are urging for a permanent and dedicated Prayer Room at Columbia University, a world-class educational institution in Upper Manhattan (New York) founded in 1754.
Distinguished Hindu statesman Rajan Zed, in a statement in Nevada today, said that Columbia should respond to the requirements of Hindu students to provide designated prayer-meditation hall for rituals, quiet reflection, festivals and spiritual exercise, which would help in their personal growth.
Columbia, which was established as an Anglican institution, already has a Chapel (St. Paul's Chapel), two Muslim prayer rooms (Muslim Student Association Earl Hall Prayer Room and Nussbaum Prayer Room) and The Kraft Center for Jewish life (which "was made possible through collaboration with Columbia University"), reports suggest.
Zed, who is President of Universal Society of Hinduism, pointed out that Hindu Prayer Room would be a step in the positive direction in view of presence of a substantial number of Hindu students at Columbia, as it was important to meet the spiritual needs of these students. Some other universities/colleges in USA now offered Hindu prayer room.
Rajan Zed urged all US higher education institutions, both public and private, to respond to the needs of their considerable Hindu student bodies and offer prayer facility. Columbia needed to recognize the intersection of spirituality and education, which was important in Hinduism, Zed added.
Zed suggested that the Hindu Prayer Room preferably should have an altar containing murtis (statues) of popular Hindu deities like Shiva, Vishnu, Rama, Krishna, Durga, Venkateshwara, Ganesha, Murugan, Saraswati, Hanuman, Lakshmi, Kali, etc.; besides being equipped with ghanta (big metallic bell hanging from the ceiling), dholak (two-headed hand-drum), Shiva-linga, etc.
Rajan Zed noted that Hindu students could not even get married according to their age-old traditions in St. Paul's Chapel (where over 75 couples get married every year) because it banned throwing of rice inside/outside Chapel, and throwing rice was an important Hindu wedding tradition.
If Columbia really believed in its own Mission Statement (It seeks to attract a diverse and international faculty and student body, to support research and teaching on global issues, and to create academic relationships with many countries and regions.), it should be more receptive to the needs of its diverse student body and staff, Zed indicated.
Hinduism, oldest and third largest religion of the world, has about one billion adherents and moksh (liberation) is its ultimate goal. There are about three million Hindus in USA.
Ivy League Columbia University is the fifth oldest institution of higher learning in USA and claims to be one of the world's most important centers of research. It boasts of 82 Nobel laureates and its libraries have 12 million volumes. Jonathan D. Schiller is Trustees Chair while Lee C. Bollinger is President.
Source: World Hindu News (WHN)